Penguins for Africa at Boulders Beach
If you are looking for something fun to do with the whole family then seeing the African (Jackass) Penguins at Boulders Beach simply cannot be overlooked. The colony of endangered penguins found here is one of only a few in the world, and you can get up close and personal with these little tuxedo-wearing birds (not too close though, they can bite!) and see them in their natural habitats.
Boulders Beach
The beach gets its name from the granite boulders that are scattered on shore as well as in the water, thus sheltering the beach and creating little inlets that are great for bathing if you can brave the cold water. And you won't have to worry about the little ones because these massive boulders act as shelters; protecting the cove from strong currents, big waves, and strong winds. There are also beach rangers on patrol every day.
Boulders Beach is part of the Table Mountain National Park and includes three beaches, one penguin viewing area, and three boardwalks. While the penguins certainly aren't violent, they should not be fed or touched, as they could easily nip fingers with their sharp beaks. It is therefore imperative that you stay on the boardwalks while in the viewing area.
Some Information and Tips
The penguin colony here was started by just two breeding pairs in 1982 and has now grown to a population of about 3000.
Parking is limited, so it is best to go on a weekday as this is a very popular tourist destination – it has been named as one of the top 25 beaches in Africa in TripAdvisor's Traveller's Choice 2013.
No alcohol, smoking, or vessels of any kind are allowed on the beach and in the waters.
Space on the beach is dependent on the tides, so low tide would be the best time to visit.
Hard work goes in to keeping this conservation clean and safe, so there is an entrance fee of R40 for adults and children over 12 years, and R15 for children from the ages of 2 to 11 years.
Opening times are as follows:
February – March: 08:00 - 18:30
April – September: 08:00 - 17:00 (winter)
October – November: 08:00 - 18:30
December – January: 07:00 - 19:30 (summer)
For more information you can phone the Boulders Beach Visitor Centre on 021 786 2329.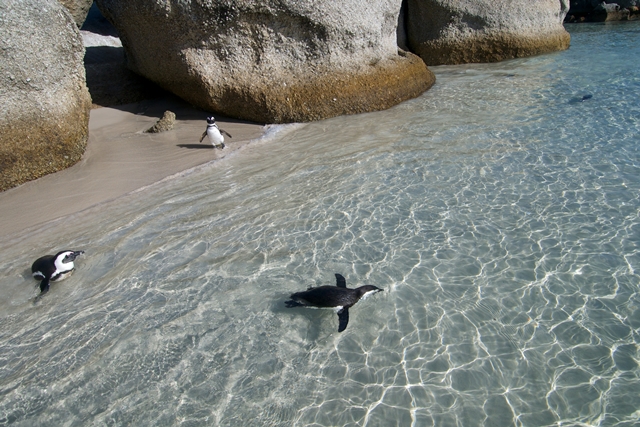 What Next?
Boulders Beach is only about three kilometres south of the naval settlement of Simon's Town, so after spending a relaxing morning there, you can head over to Simonstown for a fantastic lunch by the harbour. Bertha's Restaurant sits right on the edge of the water near the old Town Pier. You can treat yourself to some South African favourites and fresh seafood as you overlook the yacht harbour and False Bay – kids will love the fish cakes, and if they are not big on seafood, there is much more on offer such as chicken, burgers, and pastas.
Bertha's is open every day from 7:00 to 22:00. It is best that you book a table since it can get quite busy on such perfect days - +27 (0)21 786 2138.
This information was relevant at the time of publication. While every effort is made to keep information as fresh as possible, Travelstart takes no responsibility for any of the information being out of date or incorrectly noted.
---
Share the news