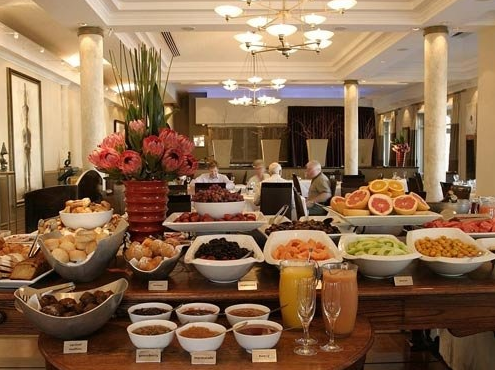 If there's one meal I love going out for, it's breakfast. Look, I won't say no to a delicious lunch or a fabulous dinner at a restaurant (by any means), but nothing beats a bowl of cereal like a groaning buffet of breakfast options.
I also think there is something fabulously celebratory about going out for breakfast – especially if it's in the middle of the week. It's that feeling of doing what nobody else is doing, combined with the luxury of taking an hour or two over a meal that really only needs twenty minutes. All of this would explain why I was determined to go for a decadent Cape Town breakfast on my birthday this year.
Now, as far as I'm concerned, there are a few things that a decadent breakfast needs. It has to have the food, obviously, preferably a cold buffet and a hot menu to order from (hot buffets are never as delicious as they promise). It has to have either a stunning view or beautiful surrounds (and in midwinter, beautiful surrounds win). And it has to have bubbly on tap – or if not on tap, then waiting on ice to be mixed with freshly squeezed orange juice. These are my ingredients for a perfect breakfast.
Luckily, I found all of them (and a whole lot more) at the Cape Grace in the Waterfront, where we dined on an abundant array of fruit, yoghurt, cold meats, smoked salmon, exotic cheeses and freshly baked breads, as well as a heartwarming choice of croissants, pain au chocolat, muffins and cakes. And that was just the cold selection! The bubbly was fresh and crisp, the orange juice had never been fresher, and the location – on the edge of the water, in a glass-walled conservatory, was just right. All in all, the perfect place for an utterly decadent Cape Town breakfast.