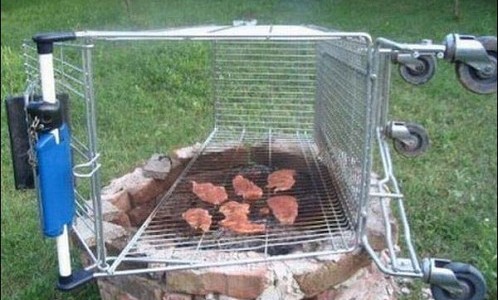 With National Braai Day (Tuesday, 24 September 2013) around the corner now is a good time to take a look at the fires, barbeques, grills and briquettes that make meat tick in different countries around the world.
We won't delve into the original South African braai – we already know we're the best at that (yes we're a patriotic bunch), but these masters of meat from around the world come in a close second and are bound to get your tongues wagging.
The All American Barbecue
A less healthy option than an SA braai, the originators of the All American BBQ are nonetheless very savvy when it comes to throwing meat on the fire and they have a number of tasty options with such awesome sounding names as Beef with Brown Sugar based Barbecue Rub and Baby Back Ribs in Pineapple Whiskey Sauce.
The big holidays for barbecuing in the States are the Memorial Day weekend and the Fourth of July Independence Day celebration.
Fling Another Shrimp on the Barby in Oz
Our Aussie counterparts live in a land where it's commonplace to find coin-operated or free gas/electric barbecues in city parks… Seriously awesome tong cred!
Your typical Australian barby offers guests a smorgasbord of tastes and meats from lamb chops, steak and sausages to freshly caught fish and shellfish in coastal areas.
Like us, the Australians like to drizzle beer over their meat during cooking. Whether or not the beer does add flavour and helps tenderize the meat is anyone's guess. Either way, there could be a Mythbusters episode in there.
Converted Ploughs in Argentina
While we've made name by turning washing machine drums and shopping trolley's into braais, the Argentines aren't afraid of a little experimentation either. This has resulted in the Asado Al Disco – whereby the worn-out disc of a field plough is transformed into a very effective grill.
Meat and offal are placed in a spiral formation so that the fat naturally slips to the centre, protecting the meat from being fried. Chili peppers and onions are usually put next to the edge, so that they gradually release their juices on the meat.
Braaing in the Rain in the UK
Thanks to the UK and its dodgy weather, the Brits have purpose built sheds to store their steel "kettle" braais and "wheelie" grills because they know there's nothing worse than a bit of added rust in the marinade.
Despite the weather, the English have bought some mouth-watering craftsmanship to their 'shisa nyama' by fusing the types and tastes of American, Western European, Scandinavian, and Mediterranean flavours. As a result you can expect to find anything from chicken, hamburgers, steak and sausages to shish kebabs and vegetarian soya sizzling over the coals.
Braai Folly
In preparation for National Braai Day in 2011, comedy duo 'Derick Watts and the Sunday Blues' recorded and shot a music video to parody the viral sensation that was Rebecca Black's "Friday".
South Africa's Braai Masters
Jan Strydom AKA Jan Braai
The man behind National Braai Day. The celebration of the nation.
Justin Bonello
Creator of South Africa's first braai reality TV show, Ultimate Braai Master.
Gareth Daniell AKA Braai Boy