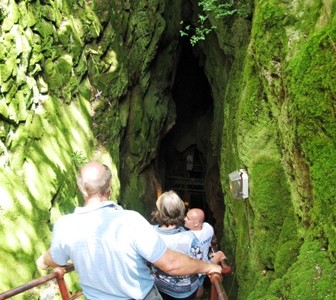 When thinking of South African cities with awe-inspiring natural attractions, I'll bet you didn't think about Joburg. Durban maybe. Cape Town definitely. But not concrete-and-glass Jozi.
That's the cool thing see? Joburg just happens to have the most awesome underground attraction called the Wonder Cave.
If you're thinking: cave = big dirty hole in the ground, filled with bats + boring flashlight tour = yucky and dreary, then think again.
Here are 10 reasons to get down (and a little dirty) in the Wonder Cave
1. The drive to the Wonder Cave, northwest of Joburg, is just 45-minutes, and the cave tour lasts only 45-minutes. No need to re-enact Jules Vern's Journey to the Centre of the Earth.
2. You can go anytime. Tours depart 7 days a week, every hour between 8:00 and 17:00.
3. There's no need to book. You can just pitch up, join a tour, and the entrance fee is reasonable too: R60 for adults and R40 for kids.
4. Entering the cave is fun – a lift (an elevator) takes you 40m into, and out of, the cave.
5. The height of the cave is around 60m, meaning there's no crawling, crouching, or bashing of heads. The floor is a little uneven in places, but it's a 10-million year-old limestone cave, not the lobby of the Four Seasons, okay?
6. It's not spooky or scary. There are no snakes, spiders, or other creatures lurking in dark corners. The walkways are well lit, and your guide (and his trusty flashlight) stays close by at all times.
7. It's not stuffy or excessively hot or dark in the cave. The temperature in the inside is a constant 16˚C, and a fresh breeze circulates naturally though the cavern.
8. Claustrophobics tend to avoid caves but at no stage will you be squeezed into a tiny dark space with a bunch of strangers that will make you want to scream, or pass out, or both.
The only time claustrophobics might struggle is in the 11-person cage lift, but the ride takes only 1-minute each way.
9. Tour information is to-the point, humorous (no stale Flintstone jokes),  and you have enough time to look around and take photos.
10. The Wonder Cave is eye-poppingly, jaw-droppingly beautiful. It's an enormous (125m long and 54m wide), naturally formed underground stone cathedral covered with fantastical stalactites and stalagmites, and weird and wonderful flowstone formations.
The Wonder cave is mind-blowing – like Mother Nature's prehistoric equivalent of a U2 360˚stage set. You don't want to miss the experience.
Heck, I reckon the Wonder Cave might even get Bono's rocks off…