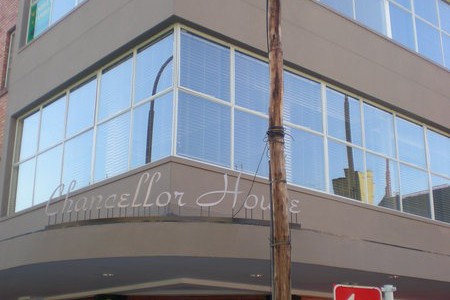 One of my absolute favourite Joburg Inner City buildings is definitely Chancellor House. I stumbled upon the building a few years ago when it was an eyesore. It's no architectural masterpiece and at the time it was bricked up, dirty, fire damaged and full of squatters.
But what this building did have was history. Designed by Architect Frank Jarret in the late 1940's this three storey building is situated on the corner of Gerard Sekoto and Fox Street in Ferreirasdorp directly across the road from the Magistrates Court.
What took this building from a regular 3 storey yellow brick structure and into the pages of South African history is that from 1952 to 1960, it housed the first black law firm in South Africa "Mandela and Tambo".
I like to imagine the young and dashing Nelson Mandela and Oliver Tambo decked out in their snappy 1950's style suits and hats, making their way through downtown Jozi to work every day. Passing "whites only" benches and "blacks only" shops on their way, this was Joburg in the 1950's. Arriving at the offices they would be met with a crowd of people desperately seeking legal aid- mostly pass law related.
"a place where they could come and find a sympathetic ear and a competent ally, a place where they would not be either turned away or cheated, a place where they might actually feel proud to be represented by men of their own skin colour. " Nelson Mandela " – 'A long Walk to Freedom'
Mandela and Tambo closed up shop in 1960 and over the years the building became more and more rundown and uninhabitable. That is until the city began expropriation proceedings in March last year and shortly afterwards started renovating the building.
Thanks to the Johannesburg Development Agency Chancellor House is now looking beautiful. The yellow brick is clean, the windows have been replaced and a new parquet floor has been sourced. They have also added some period style pieces such as a retro Chancellor House sign, black tiles on the lower outer walls of the buildings and my personal favourite – a replica of the original Mandela Tambo Attorneys sign now hangs in the second floor window. Extremely stylish!
Chancellor House is really worth a visit as a museum display has also been placed on the ground floor facing out the windows. It can be seen at anytime and tells the story of Mandela and Tambo's time in the city. There is a great time-line depicting interesting events and the photos are amazing! Future plans for Chancellor House are a law clinic and a library with a focus on cases that the Mandela and Tambo firm were involved in.