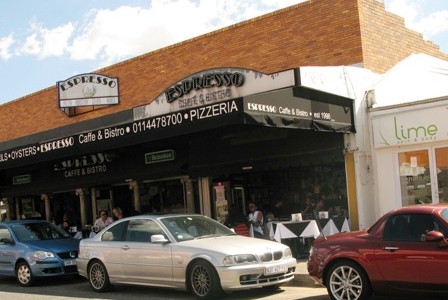 Parktown North (proclaimed in 1903) and adjacent Parkhurst are among Jo'burg's oldest suburbs.
Back then, Johannesburg's super wealthy gold and diamond mining magnates, known as the Randlords, opted for the ridges of Parktown and Westcliff to build their posh, north-facing mansions.
Both suburbs, with their compact Victorian and Edwardian mining cottages, were so-named for their position north of the suburb of Parktown.
Located close to Jan Smuts Avenue, one of the busiest arteries in Johannesburg, Parktown North and next-door Parkhurst properties are now as sought after (though not quite as expensive) as the larnies in Parktown proper.
Whereas Parktown and Westcliff reflect a mix of Joburg's old moneyed dynasties (like the Oppenheimers) and a host of newly arrived 'tenderpreneurs', Parktown North and Parkhurst is where some of Jo'burg's venerable residents have chosen to see out their retirement, and young, hip urban professionals live, work and play.
Visit these suburbs, and you'll see folk out walking their pooches, window shopping, or pushing strollers before taking tea, or coffee, at one of the dozens of pavement cafés.
It's this village atmosphere, where residents and shopkeepers are on a first-name basis, and people gather in the park to play boules, that keeps Parkhurst and Parktown North among Jozi's most sought after suburbs.
An eclectic collection of one-off stores, the possibility to enjoy sundowners at a pavement café until past midnight, and a happy absence of franchise and fast food restaurants add to their charm.
Parkhurst is brilliant for people watching and has a large gay community. A leisurely, late brunch outdoors at Nice, the Attic, or Espresso – all on 4th Avenue – just wouldn't be the same without a parade of pretty boys in their convertibles cruising by and looking gorgeous.
Speaking of gorgeous, Parktown North has to be one of Jo'burg's most design conscious suburbs. On the corner of 3rd and 7th avenues, the Parktown Quarter, a collection of galleries, bespoke décor shops, vintage emporiums, and antique shops bombard passers-by with pretty (and pricey) goodies to dress your nest.
When you're all shopped-out, the Quarter's street-facing Wombles Steakhouse is considered one of Jo'burg's best, while many rate Moemas to be the finest patisserie in the city (trust me, it's GOOD!).
7th Avenue, which becomes 6th Avenue, connects these 2 trendy suburbs. In the surrounding streets, you'll find from contemporary cuisine to tapas, curry, or seriously avant garde eating.  If loud and rowdy is your thing, try Jolly Cool, or the Local Grill.
The area's maze of streets, means parking's a pain in the *ss, especially on weekends and public holidays, but don't let that stop you from exploring these twin urban villages – day or night.
The best way to enjoy the area is on foot, so unless you fear for your Ferragamos on the somewhat uneven pavements of these vintage suburbs, dress your best, and come and snoop, or shop, or sip cocktails – whatever you prefer, really. Or, do as their names suggest, and just Park-off.