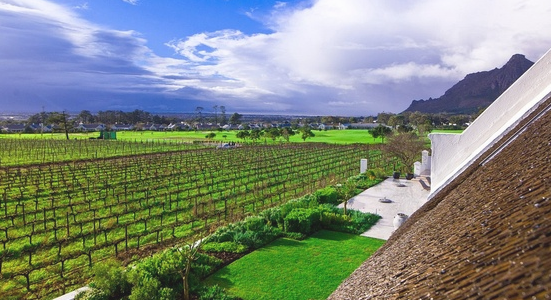 If there's one thing that really makes it feel like summer (and holidays, even if it isn't actually holidays!) it's a picnic on a wine farm. Something about lazing around in the dappled sunshine with copious amounts of wine or bubbly and delicious nibbly food really sums up what summer is all about for me…
So I was delighted to find a new picnic haunt – and what a winner it is! Steenberg Vineyards offer festive season picnics, which means from October to March you can delight in this warm weather treat. You have to pre-book, so be sure to check out the relevant information here and they have boules sets, parasols and picnic blankets for those who want to make a day of it (trust me, you want to make a day of it). The Winery itself is beautifully laid out, with a central Tasting Bar and lovely lawns with lots of shady trees and reflection pools to choose a picnic spot from.
This is an eco-friendly picnic, with biodegradable picnic hampers and local produce. The food is simply splendid, a generous array of freshly baked Panini with oven roasted butternut and red onion spread with crushed pumpkin seeds, and smoked west coast snoek pate. Then there's the Cape cheese platter from Dalewood Fromage in Klapmuts, and the divine charcuterie selection from Cure Deli. Throw in some home-baked mushroom, thyme and parmesan tartlets and a summer couscous salad and you have the makings of a feast! Especially because there are chocolate brownies for dessert… Yum. Each picnic basket (for two) comes with a bottle of Steenberg wine or (my personal favourite) their excellent 1682 bubbly.
Great food, good company and superb bubbly – not a bad combination. In fact, a simply wonderful combination. I may have to go back before the summer season ends…