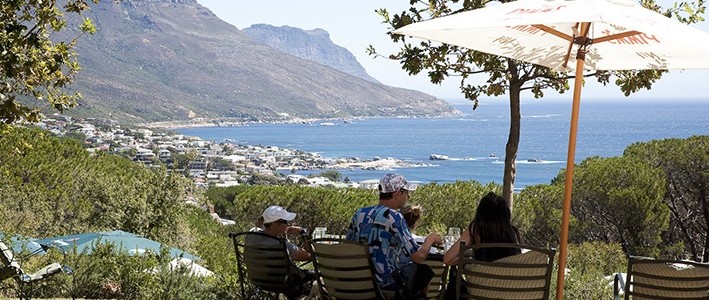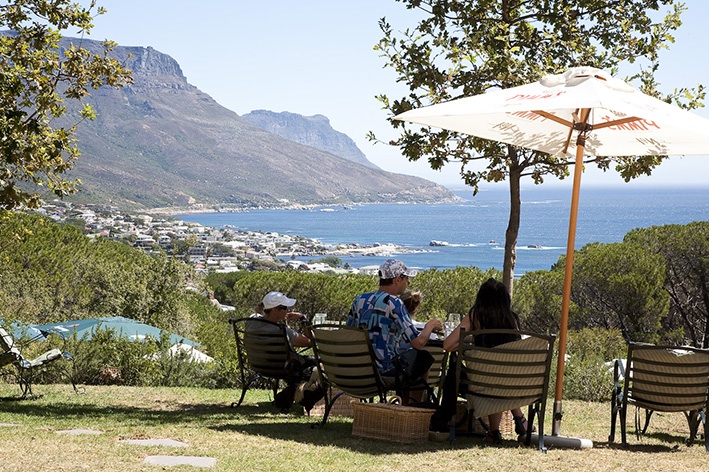 One of the problems with Cape Town is that there's simply too much to do. How does a tourist manage to fit the beaches, Table Mountain, the wine farms, the fabulous shops and the history all into one short holiday? Never mind the tourists, how do locals manage to fit it all in?
Well, I recently found one solution: The Roundhouse, a restaurant that feels like a wine farm, only it's right in the heart of the city. Perched on a steep hill looking out over Camps Bay and the beautiful vistas of the endless ocean, The Roundhouse has the ideal location: close enough to be a short hop from the city, but secluded enough to feel like another world.
As soon as you step into the dining area (a beautiful round house for the main restaurant, with terraced gardens set up with wooden picnic tables and benches), you'll feel as if you've stepped into a different pace of life. Forget the hustle and bustle of the city and downshift a gear or two as you while away a few hours for Sunday lunch. This is not a fast-table-turnaround, quick-service-and-you're-out kind of place, it's the kind of place you should reserve at least three hours for.
Those three hours will be packed with delicious food. The menu is also reminiscent of wine farms, with a checklist of what kind of tapas and mains you'd like to be delivered to your picnic table, as well as a long list of drinks (including a simply superb mojito).
The tapas in a jar starters are a delightfully creative way of presenting tapas, in medium sized glass jars. We chose caramelised onion pate and truffle cream cheese, but there was also a spicy olive mix, olive tapenade, feta stuffed pepperdews and, for the more adventurous, pickled octopus. For picnic mains there's a wide range of charcuterie, from salmon trout to cured beef, a delicious spread of salads and cheeses, and their freshly made ciabatta (yum!). We went for the 'make your own pizza' option, with black forest ham, avocado, peppadew and mushroom, and one of their featured hot dishes – roasted bone marrow with oxtail marmalade. Desserts were macadamia nut tart and carrot cake. Are you hungry yet?
The beauty of The Roundhouse – apart from the delicious food, the comfortable picnic benches and the chance to rub shoulders with Cape Town's fashionable crowds (and fashionable families) – is the surroundings.  Mountains behind you, the ocean in front of you, trees all around, it truly is a breathtaking part of Cape Town. And with the beach and the city no more than ten minutes away, it's the perfect place for out-of-towners to get a slice of wine farm right in the city.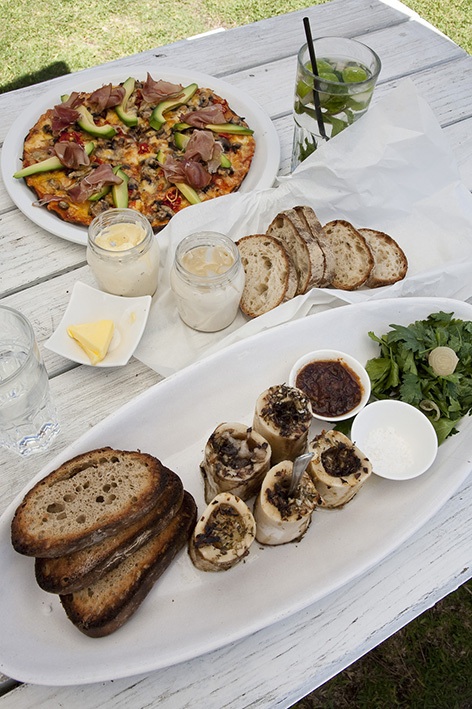 Images: Mark Peddle