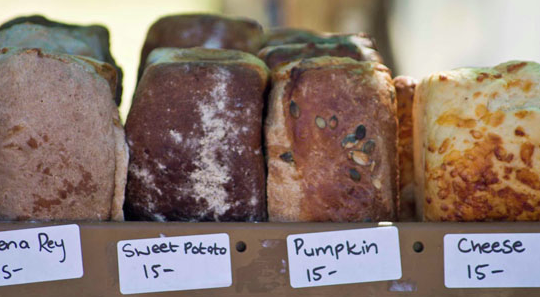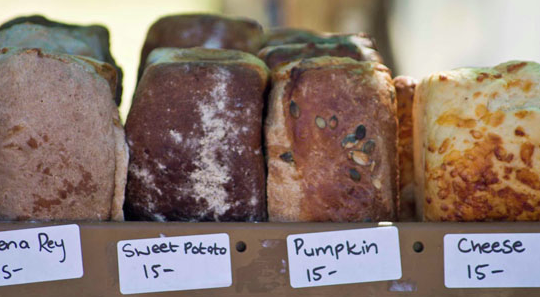 Farmer's markets have become suddenly hip. I blame the Neighbourgoods Market, which took Cape Town by storm with its array of fresh food, arts and clothing, and which is now so popular that visiting it has become a test of endurance. Lucky, then, that there are three other options in the greater Cape Town area that all offer something special (as well as superbly fresh food!)
1.    City Bowl Market on Hope
Only open two months, this is the perfect market for city dwellers – compact enough to walk around in a decent amount of time and not feel overwhelmed, extended enough to offer something for everyone. It's held every Saturday from 9am to 2pm in an old school hall in Hope St, in the City Bowl, and you can get everything from fresh fruit and veg to Rudi's unbelievable homemade sausages, cupcakes that will break your heart and a wide variety of lunch offerings. Seating is down the middle of the market on comfortable covered hay bales, and the breakfast offerings keep growing from week to week.
2.    Porter Estate in Tokai
Tucked away down a dirt road riddled with baboons lies the Porter Estate, a very well established Saturday morning market with a large variety of stalls and a dedicated following. You can buy a bacon and egg roll (or pizza!) and eat it on wooden benches under the trees, or venture into the main market area for baked goods of every description, fresh pestos and honey, every kind of cheese you could wish for and even some crafty goods. This is more of a family market, and the outdoor location makes it a lovely morning out in nature. Just beware of those cheeky baboons!
3.    Stellenbosch Fresh Goods Market
Not technically in Cape Town, but if you're planning a day in the Stellenbosch wine farms, take an hour or two out to wander around the farmer's market. Here you'll find a lot of craft, clothing and shoes amidst the food, but there's a large indoor foodie area and an outdoor prepared food and drinks area, so you definitely won't go hungry! The steak or bacon, egg and pesto rolls are legendary, and there are so many options of freshly made pies, samoosas, breads and cakes that you might want to pack a picnic instead of eating lunch at a wine farm! There's also plenty of space to sit on the verandah or on seats dotted around in between the stalls.
Whichever market you choose, make sure you take your appetite and more bags than you think you need – if there's one thing you can be sure of, it's that you'll be tempted to buy waaay more than you think!
Image credit – Outdoor Market