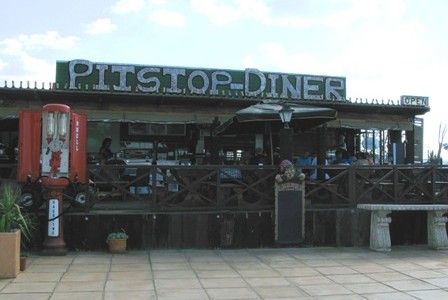 In Jo'burg, there are 2 kinds of Harley owners. The genuine H.O.G.s (Harley Owners Group) who don't give a toss about Peter Fonda, Arnold Schwarzenegger, or Orange County Choppers.
Then, there are the Harley posers.
Like the popular kids at school, the posers always travel in gangs. Kitted out from head to toe in tasselled, studded, HD monogrammed biking leathers, and American eagle headscarves, they're all desperate to look like the Easy Rider, meanwhile  ruining the illusion by sipping cappuccinos (with pinky finger in the air) at yuppie pavement cafés.
Typically, Harley posers only make appearances on weekends, or when there's a rally, and they can ride slowly through trendy crowded public places to elicit the maximum amount of admiration and envy.  Ape hangers (those that ride choppers with handlebars above their ears) especially, love urban boulevard cruising.
Then, there are the hardcore H.O.G.'s. They hit the open road, rain or shine, and live in a cosmos ordered as follows: Harley Davidson, then God, with the wife, or the dog, in third place.
It's their shiny choppers and trikes you'll see on the weekend lined up outside a junkyard in Muldersdift.
Run by Greek husband and wife team, Yoram and Anastasia, the Pitstop Diner, open since July 2010, according to Anastasia, evolved "When Yoram started building me a cart I could sell boerewors rolls from – and never stopped!"
A Harley Davidson fanatic since he was a toddler, eye-level with a glass of Ouzo, Yoram is an ex-Harley mechanic, truck driver, and general jack-of-all-trades. He'll tell you the diner came about because he wanted somewhere that fellow Harley lovers could ride out to, enjoy a reasonably priced meal, and relax.
An American diner with a local twist, to take advantage of Jo'burg's great weather, the Pistop Diner has mostly shaded outdoor seating rather than a conventional counter with bar stools.
Harley, Route 66, and saloon memorabilia from Yoram's days cruising around the United States clashes with rusty car and truck parts, disused furniture, and in-need-of repair catering equipment. If you're familiar with the Food Network's Diners, Drive-in's and Dives, the Pitstop is all 3-in-1.
There's even a junkyard dog, a sweet-natured Staffie-cross, who, having just given birth to 8 puppies, is living proof that ugly chicks can get laid, and who'll happily swap a tail-wag for a morsel of your patty or steak.
The menu is basic and terrifyingly cheap – nothing costs more than R50. Think burgers, pregos, dogs (not the Staffie), and pitas – anything that belongs between 2 pieces of bread. The portions are BIG, though it must be said that about 60% of the serving is bread. Moreover, although it's fast food menu, don't go to the Pitstop if you're in a hurry to eat.
Everything is homemade, and cooked to order. Before I knew the owners were Greek, I ordered a falafel, and it's the best I've eaten in Jo'burg. Others had the pregos or burgers, and pronounced them delicious good value. The lone vegetarian at our table gave the authentic horiatiki salata two thumbs up. We finished with sticky-sweet lemon meringue pie, and mugs of instant coffee. Sorry, Harley-snobs, you'll have to stay in Melrose Arch if you're lusting after a latte.
Were there Harley riders chowing-down at the Pitstop? You bet! Home to the Platinum Wings Harley Club, the place was packed  with Hog-wild girls and boys, who love their bikes for their cool factor, and gravelly exhausts, and not because they can afford the merchandise.
Even Hardley-Davidsons are welcome.
How to find the Pitstop Diner: drive out on Beyers Naude Drive in the direction of Muldersdrift (northwest). The diner is on your left, before Incoae Weg (road). If you pass the Hakunamatata sign, you've gone too far. Contact: Anastasia on 082 855 8680