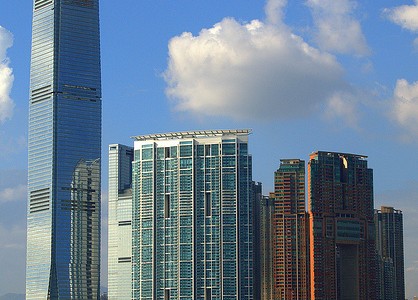 The other day I read that the world's tallest hotel had just opened in Hong Kong, China. It caused a déjà vu, as I vaguely remembered reading a similar headline recently about the world's tallest hotel opening in Dubai, United Arab Emirates.
After a minor investigation, it turns out that the world's tallest hotel is now the Ritz-Carlton Hong Kong at 1,600 feet. The spectacular five-star hotel opened on March 29, 2011, with 312 guest rooms that offer remarkable views of the city and harbour. This inauguration means the Ritz-Charlton Hong Kong surpasses the Rose Rayhaan by Rotan Hotel in Dubai, which stands at 1093 feet (333 metres) skyscraper and opened just 16 months ago in December 2009.
But wait just a minute. In the case of these two spectacular hotels, doesn't the designation as world's tallest hotel become a matter of how we define hotel?
The Ritz-Carlton Hotel in Hong Kong is technically part of the International Commerce Centre, and the hotel occupies floors 102 through 118 of the 1,600 foot skyscraper. The Rose Tower in Dubai however is a fully-dedicated hotel, with 72 floors of accommodations and 462 guest rooms.
In my very amateurish opinion, I think the Rose Tower remains the world's tallest hotel (or at least the hotel with the most floors), while the Ritz-Carlton Hong Kong can more accurately lay claim to having the world's tallest hotel rooms.
Either way, both may very well lose their title in 2014, when the J-Hotel is expected to open in Shanghai, China. And regardless of the record at stake, both properties are remarkable feats of engineering and what humans are capable of creating.
Both hotels are a little out of my price range, but I'd still jump at the chance to spend a night at either one of them. The Ritz-Carlton Hong Kong is offering specially-priced grand opening packages until May 31, 2011.
By The Numbers
Ritz-Carlton (Hong Kong, China)
Opened March 29, 2011
Floors 102-118
# of rooms – 312
Height – 1,600 feet (488 metres)
Views – Spectacular!
Rose Tower (Dubai, UAE)
Opened December 23, 2009
# of Floors 72
# of Rooms 462
Height – 1,093 feet (333 metres)
Views – Amazing!
*photo courtesy of flickr user jimbowen0306
[boilerplate bytitle="text"]