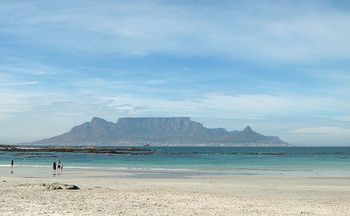 Photo: Andrew Deacon
Yes, yes, I know, I know – Table Mountain is all anyone ever talks about when they mention Cape Town.
But it's for good reason. There are numerous jokes about the power of the mountain over the city, "Hey, shoowaa, man, I'm just soaking up the viiiibes of the mountain today," and they are largely just that – jokes.
There is, however, something extremely cool about being able to see a giant mountain from pretty much anywhere in the city. It's a great reference point if you're bad at directions (which I am), and it makes the city feel less like a city. It also brings nature right to your doorstep (as long as you live somewhere near the mountain). Walking on Table Mountain in summer or winter is an ideal way to spend an afternoon, and the roads ringing the mountain are always full of joggers and cyclists, soaking up some natural beauty while they exercise.
And then of course there's the cable car, which is not only a real treat to ride, but results in the best view of Cape Town you could wish for (this is one trip all visitors to Cape Town for the World Cup should take).
If you need any final convincing, how about the tablecloth of cloud that blows in from behind the mountain and sweeps down as if a giant is laying the table for a dinner party?
That's pretty damn cool.