Fact file: "South Africans think with their hearts." – Carlos Alberto Parreira, 11 March, 2010
Football fans will make the month of hedonist activity a joyous occasion for themselves and each other – no matter how the actual event goes down. But it is still soothing to know that FIFA President, Sepp Blatter is behind us – and by us I mean this nation – 100 percent. His recent silencing of those obsessed with doom and gloom is both reassuring and invigorating.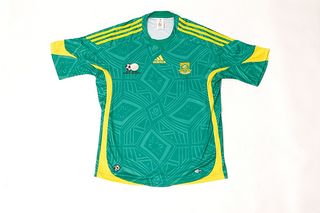 And, as we draw even closer to the day the curtain will go up and the first pi.jpgtch will be christened, we learn that Bafana Bafana have found a home for the duration of the tournament. Sandown High School business politics and final decisions aside, it is great to know that our team who will play together, will focus and reside together. Just another reason to point our faces to the sun as we welcome supporting teams and nations from all over the world; people who speak differently to us, but who are no doubt all here for the same reasons: Sport. And a unifying one at that.
We are renowned as a perky nation generally, we like to celebrate good news with each other – and yes – we absolutely think with our hearts! Just look at how people have celebrated our great histories in the past. There is no colour in a smile. Something we know a lot about – and look forward to seeing more of!
Muzi Mohale