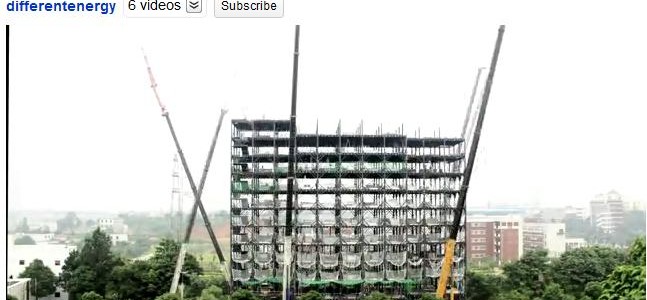 On your next visit to China, you can now sleep in the world's fastest-built 15-story building, the Ark Hotel. (amazing time lapse video of the construction)
How could this possibly be done? Well, the design/planning process was years in the making, the foundation was already in place, and all materials were prefabricated off-site, before being assembled on-site. Nonetheless, a truly remarkable feat.
According to media reports, the sound-proof building has been designed to withstand a magnitude 9 earthquake. The company who built the structure, the Broad Air Conditioning company, states on their web-site that no excavators or cement mixers were used in the construction.  Several cranes from flatbed trucks were instead used to lift steel, foam wall panels, pipes, flooring and other accessories into predetermined portions of the building, and the components were then put together by assembly workers.
The company adds there were no injuries in the construction, and very progressive environmentally-sustainable practices were adhered to, with only 1% construction waste.
The Ark Hotel is located in the city of Changsha, capital city of Hunan province, and is situated roughly 900km from Shanghai and 1100km from Beijing, in south-central China. The metro population is roughly 6 million inhabitants.
The city of Changsha is also know for being home of the West Lake Restaurant, which is the biggest Chinese restaurant in the World and largest restaurant in China, with a seating capacity of 5,000 persons.
Many people will ask "but is it safe?"  That's a question you will have to answer yourself. I for one would have no problems staying there.