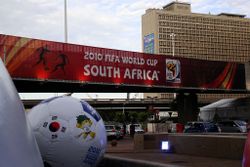 (photo courtesy of warrenski)
In case you missed it, an estimated 200 million people from around the globe tuned into the FIFA World Cup Draw Ceremony and celebration, taking place December 4th at the Cape Town International Convention Centre. 
What a show Cape Town, and South Africa, put on for the television audience! Kicking off with a speech from the now 91-year old Nelson Mandela, who urged the country to "strive for excellence in our hosting of the World Cup, while at the same time ensuring the event leaves a lasting benefit to all our people." Several outstanding musical performances ensued, and the official mascot, Zakumi, even made a guest appearance!
The draw was hosted and performed by South African actress Charlize Theron (wearing a stunning red dress), along with the FIFA Secretary General Jérôme Valcke. As they drew team/country names, people around the world sat on the edge of their seats, in anticipation for who their favorite team will be grouped with. Theron also introduced the official match ball that will be used in in 2010.  
For those not lucky enough to attend in person, there was tons of action nearby, with a free street party and festival taking place on Long Street, featuring tons of music and performing artists.  
In case you missed it, below are the groupi.jpgngs for the 2010 FIFA World Cup in South Africa. 
2010 FIFA World Cup Draw
Group A: France, Mexico, South Africa, Uruguay
Group B: Argentina, Greece, Nigeria, South Korea
Group C: Algeria, England, Slovenia, United States
Group D: Australia, Germany, Ghana, Serbia
Group E: Cameroon, Denmark, Japan, Netherlands
Group F: Italy, New Zealand, Paraguay, Slovakia
Group G: Brazil, Ivory Coast, North Korea, Portugal
Group H: Chile, Honduras, Spain, Switzerland
World Cup fever has officially begun. Every football fan on the planet is talking about the 2010 World Cup today.  
If anyone was there at the festivities, I'd love to hear your comments!