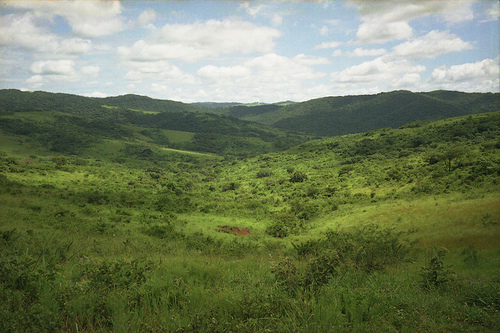 Photo: Mister-E
Just outside the town of Ixopo (the x is a loud click, if you want to sound like a local), a few hours out of Durban, lies a place of deep peace and serenity.
Welcome to the Buddhist Retreat Centre.
A large property looking out over rolling green hills dotted with huts and sheep, large Buddha statues seeming to grow from the plants themselves, and an emphasis on silence and tranquility make this the kind of place you'll want to return to again and again. The kind of place to relax in after the frenzy of the World Cup has passed.
There are various courses held at the Buddhist Retreat Centre, from weekend art courses to two week meditation retreats, and a strong emphasis on yoga and early-morning meditation. But it's also possible to do a weekday self-retreat, where you spend a few days doing what you will and soaking up the calm. Three meals a day are included, and they're all vegetarian and all totally delicious. There are long walks through the surrounding forest and hills, and plenty of hidden nooks to sit and read, or write, or simply sit. It's one of those places that can calm even the most stressed-out soul.
And it is so beautiful. The best of KwaZulu-Natal in the most serene environment. Unmissable.