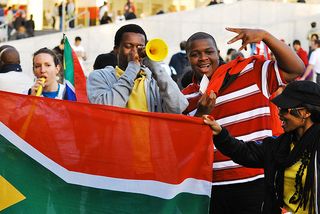 Fact file: South Africa's water is of a far higher quality than that of many developed countries. High-quality tap (faucet) water is available almost everywhere, treated to be free of harmful microorganisms and both palatable and safe to drink straight from the tap. Johannesburg's water, for one, is as good as anything you'll get in a bottle. – mediaclubsouthafrica.com
Recent bad news and the association with politics and violence has brought out more opinion from those far and wide, and even more assurance from those locally. I quite fancy the local opinion (once more). It speaks of the optimism associated with sport in general – and now the World Cup specifically. The vice-president of Race Relations, Lawrence Schlemmer says that the tournament will go along way to easing racial tension in the country, and that the World Cup will channel passion rather than evoke conflict. The powers that be are already seeing the results of their tough stance on crime. Let's focus on that and the other plethora of good news about South Africa right now, and for those who are obsessed with the bad news, maybe you need a news revolution.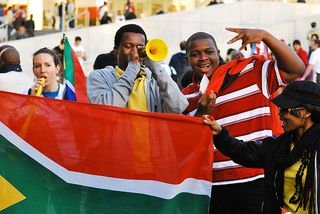 Have a glass of premium South African water, and then consider starting your news revolution here: Bafana Bafana's recent trip to Brazil has brought the team back beaming! Nine games, five wins, three draws and one loss (2-1, against Santos). The team is obviously firing on all cylinders and feeling the positive effects of the hype and good luck associated with being the home team! They were welcomed home in true South African style with much hype and fervor at OR Tambo International, yesterday. This is a great vibe for our team and the nation to go into the upcoming World Cup on and is, in itself, a great reason to feel good about being in South Africa right now. Beam brightly Bafana Bafana! The stadiums are ready. The team is ready. Are you?
Photo: Thin Lizzy
Muzi Mohale