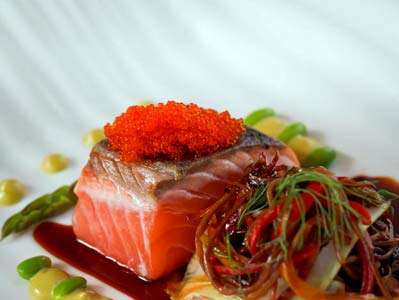 The city of a billion culinary delights can be bewildering when it comes to chosing a place to eat. So here's a few restaurants I love – there may be many more, many I haven't even discovered yet, but I reckon, these are some of the best! They're not in any particular order and are of a range of price categories:
1. Myoga Restaurant – Newlands
I discovered this secretive little gem a little while ago when a friend held his birthday there. It's tucked away at the Vineyard Hotel in Newlands, this top end, gourmet eatery is award-winning chef, Mike Bassett's venture and his credentials definitely show through in the excellent dishes served here. They offer affordable winter specials of six course meals which are only exponentially enhanced by the delicate wine-pairing which sommelier extraordinaire Carl Habel has picked out. A definite must see in my books!
2. Manos – Greenpoint

On a completely different plane to Myoga is Manos, set right on the extremely busy Somerset Road, this little gem has been around for about 15 years now. Beloved child of owner Mano, this restaurant rings with homely charm. Ambience is neat and casual from the tables through to the outfits and look of the waitresses. The menu has reasonably-priced simple and reliable dishes like pastas, steaks and salads – though all made with the finest ingredients which almost seems to reinvent the dishes themselves. They don't take reservations so this means that if you get in early you get to make the throngs of Cape Town's hip and model elite wait at the bar while you sip your carafe of house wine!
3. Minato – City Centre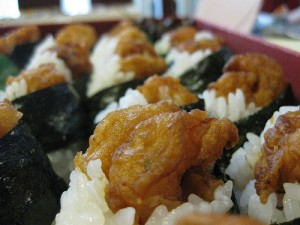 This discreet and tucked away little secret is located on Buiten Street, just off the top of Long Street, barely noticeable, you have to ring a bell at a security gate to be let in down the long passage to where this former karaoke-come-strip-bar is hidden. Now a much more sober venue for the more savoury habit of Japanese dining and drinking, it might not boast the glamourous decor synonymous with Cape Town dining, but what it is known for is it's 100% authentic Japanese tempura – some of it recognisable classics, others are delectable home-made creations. This restaurant flies in the face of popular sushi culture in South Africa and boasts giant loosely packed "natural" looking rolls which the Japanese owner – known affectionately and traditionally as Papa-San – insists are the authentic alternative to the tighter-packed Chinese versions so popular in our country.
4. Kitima – Hout Bay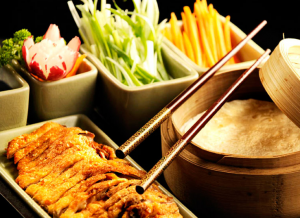 Another secretive spot (never seen it advertised) – so secret I fear they may ask me to remove this post – can be found at the Kronendal in Hout Bay, Kitima, the A-list Thai restaurant owned with the lady of the same name. Decorated in such luxuries as silk wall-paper and a wallnut table in its VIP room, this venue is quite at the top of the pile when it comes to a glamourous experience. It presents a veritable encyclopedia of cocktails, has so many staff it's possible they outnumber the diners, even when the restaurant is packed to capacity and it has an outstanding menu to match. Food is not outrageously priced and one gets to dine in the relative intimacy of one of the rooms of the house, you'll only really share this room with a few other tables, so it makes for a great place to impress that someone special – just mind the drive back if you're under the influence! Bear in mind, you'll need to book quite a while in advance too if you're wanting to get in.
5. Olympia Cafe – Kalk Bay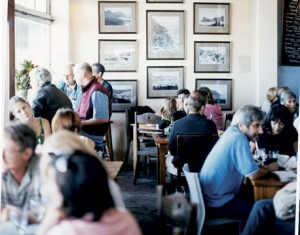 Well known amongst locals, if you were a tourist, you'd probably give this noisy cafe-style joint with it's mismatch furniture and complete lack of decor theme a miss – but you'd be seriously missing out. It's a popular spot with cyclists and families alike to catch breakfast on their trips along the coast. Famous for it's excellent bakery, it also sports wholesome, yet gourmet dishes for its lunch menu like roast baby chicken on a bed of julienne vegetables or seared tuna nicoise salad – all described and listed loosely on the chalk-board menus (anywhere with a chalk board menu always instills a feeling of confidence for me!).
Those are my little gems which I absolutely love!
Feel free to leave any additions you might have in comments below!
[boilerplate bytitle="Standard"]