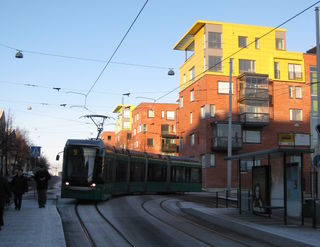 (photo – the Helsinki Tram line #9)
I love cities that have really great transit systems, ones which are easy to understand, provide great access, and make exploring a new city easy and enjoyable for a foreigner.  
In the past five years I've been to more than 120 cities around the world – my five favourite transportation systems include, in no particular order: 
5.
The Star Ferry, Hong Kong
–  It's a passenger ferry service which operates between Hong Kong Island and Kowloon. They have 12 ferries, which are able to carry more than 70,000 passengers a day. 
4.
Budapest Metro, Hungary
– This is the 2nd oldest underground metro system in the world, and was declared a World Heritage Site in 1979. It services the entire city, and the different lines use an easy-to-understand color system.
3.
Helsinki Tram, Finland
– The Helsinki Tram network provides more than 50 million trips per year, in a city of less than a million people. On a cold Helsinki winter day, a tram ride can also give you a break from the cold. 
2.
London Underground, England
– Also known as "the Tube," it's the world's oldest underground railway, having more than 260 stations and 400 kilometres of track, making it the longest system in the world. Over 1 billion passenger journeys were recorded in 2007. 
1.
Geneva Public Transport
– Many hotels in Geneva will sell or provide a multi-day pass for Geneva Public Transport, which includes the bus, trolleybus, or tram (light rail). This network covers much of this beautiful city. The ease of getting a pass, and of understanding the network, makes it simple and worriless for tourists exploring the city.