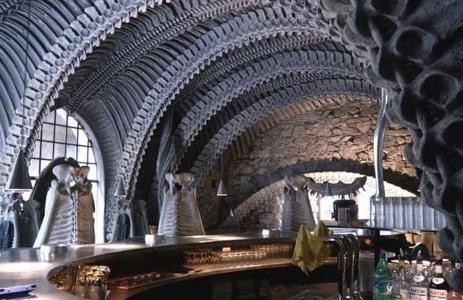 Travel enough, and drink enough, and you're bound to stumble into some seriously weird bars and restaurants – the kinds of places conjured up from some enterprising entrepreneur's dreams and eventually laid out to the public for consumption.  From strange scenery and creepy themes to tiny waiters, the following bars are some of the strangest in the world.
1. Skeleton Bar – Switzerland
This creepy bar/museum was designed by HR Giger, who designed sets for the Alien movies.  Its structure resembles bones, from the ceiling and walls right down to the tables and chairs.
2. Hobbit House – The Philippines
Hobbit House was established in the 1970s by a Lord of the Rings fanatic, and in keeping with the hobbit theme, it's staffed by "the smallest waiters in the world." Check out the Hobbit House Bar
3. Baobab Tree Bar and Wine Cellar – South Africa
Located on a remote farm near the Zimbabwe border, the Baobab Tree Bar and Wine Cellar is located entirely inside a massive Baobab tree.  Step inside the trunk door to find a surprisingly classy bar. Check out the Baobab Tree Bar
4. Absolut Icebar – Sweden
The Absolut Icebar, located inside the Icehotel in Jukkasjärvi, Sweden, maintains a frosty 23 degrees so your drink's pretty much guaranteed to be cold.  The bar, chairs and glasses are all made of ice, so bring your coat. Check out the Absolut Ice Bar
5. Clinic – Singapore
Clinic is fashioned after, you guessed it, a health clinic.  Complete with hospital whites, wheelchairs, syringes and IV drips, the Clinic is a fashionably morbid spot to grab a gastronomical cocktail. Check out the Clinic
[boilerplate bytitle="Standard"]