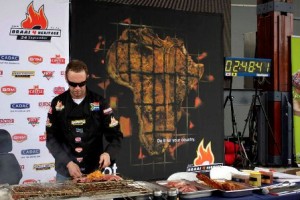 The 24th of September is Heritage Day, and in celebration of our heritage, it's also National Braai Day.
Since this is our national identity we're about to marinate, let's be clear: A braai is not a barbeque (technically it is, but it's not) it's a BRAAI.
It's also not a Barbie (as in Australian colloquial term for a barbeque). In South Africa, a Barbie is a blond-bimbo 'merican doll that little girls, and few not so straight men, play with.
Cooking outdoors over an open fire, or as we call it, braaing, is as 'Souf Effriken' as it gets. The San hunter-gatherers that roamed the plains of the West Coast and Cape Town before such places had names were the first 'okes' to light a fire, and throw a chop or two on the coals.
That instinct's never left us. South Africans regardless of race, colour, or political persuasion, have gotten together, and gotten along, around a braai.
According to Jan Braai, who holds the World Record for the longest braai (28.5 hours) Chisa Nyama is a Zulu term for braaing, typically used in South Africa's townships, and the top spot on my list of 5 places to braai on Heritage day.
1. Bra Joe's in Alex
Like no home braai you've ever been to, you buy from Joe's Butchery, whack your steak on the fires provided and watch a typical day in Alexandra township unfold while Joe's staff braai your meat to perfection.
2. Carnivores, Mulderdrift
Okay, I know I'm gonna catch flak, but this is braaing on a grand scale. Beef, chicken, and anything (and everything) that's ever roamed a game park (except for the warden) is put on a spear and roasted over an open pit. A beast of a feast.
3. Wemmer Pan/Pioneer Park
South of Jo'burg, bring your own braai, and chill out. Watch the boats, and let the kids enjoy the play park and acres of lawn. Light that fire quick before the smell of garlic prawns and trinchado lures you to a nearby Portuguese restaurant.

4. Walter Sisulu National Botanical Garden
Only gas braais allowed, it's one of the loveliest outdoor spots in Jo'burg. Speaking of heritage not only is the garden named after one of South Africa's greatest freedom fighters, but Black Eagles (Verreaux) have been nesting adjacent to the Witpoortjie falls since the 1970's.
5. Bosvelder Pub
I had to include this one because although it's not in Jozi, (it's behind the Boerewors curtain (Pretoria)), and you don't actually braai anything yourself, this restaurant-cum-pub screams heritage, especially the Farm Platter.
Consisting of Kaiings (crispy, fried sheep or pork fat), marrowbones, Skilpadjie (minced liver wrapped in caul), Pofadder (traditional sausage made with venison) and pap (polenta or grits), this is real, old-fashioned braai food.
Best of braai spot of all? Score an invite to someone's house. Just remember the first rule of Braai Day. A South African's braai is like Chuck Norris. Mess with it at your peril…