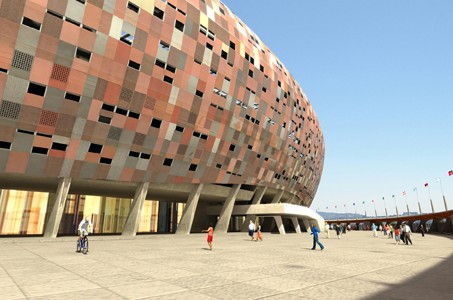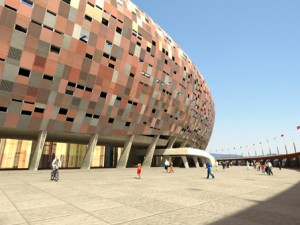 Fact file: Soccer City (previously the FNB stadium) was host to just-released Nelson Mandela in 1990 for the first ANC rally.

No one can quite attempt to understand the psyche of players in a team who are about to host the most widely-watched sporting event, and who are then expected to play a 'friendly' in Germany (an oxymoron on its own perhaps). This, amid air travel doom and gloom and well… their performance was less than impressive. But so what? Surely this is the point; to iron out all the rough spots. So let's see the silver lining and agree that this camp was not a complete waste of time but rather worthwhile 'school fee's' – just as it should have been.
Better news is the constant thread of facts about the sports stadiums being remodeled and erected for the tournament. Soccer City has big plans for its longevity long after the World Cup has come and gone that includes concerts and other sports events (rugby as such), and is currently hosting fact-filled tours (R70 per person) that reveal insights behind the design, colours and capabilities of this architectural triumph. Durban's commitment to not only their stadium, but the renovation of their beaches is a reminder that each region is doing their bit – and then some – to put their best foot forward for the visiting nations. We've heard the projected numbers have dwindled slightly, but I say we wait and see what the final tally is when the event has come and gone. We will succeed. We will impress. We will be impressed. 46 days to go. Are you excited yet?