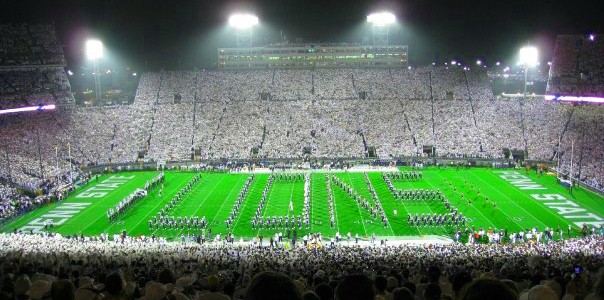 It's not even September and I'm already losing my boyfriend to pre-season scheduling conflicts. While I'm not much of an NFL fan, I do love me some good old-fashioned college football, especially when accompanied by burgers on the grill, crisp autumn air, and fellow alum who bleed blue and white (WE ARE!). I plan to attend the PSU games vs. Illinois, Indiana, and possibly Michigan this year, but the rest I'll catch at a select few sports bars around town. Here are your best options for reasonably priced beers and optimal game viewing pleasure:
329 First Ave.
The $5 house wines on Trivia Tuesdays at this spacious sports bar will put you in just the right mood to cheer for teams you could care less about.
56 Greenwich Ave.
For $4 a drink from 4-8p.m. on weekdays, you might want to make this place more than your Monday night go-to.
To find awesome flights to New York go here.
346 West 46th St.
The huge New Orleans-inspired space is perfect for gathering a crew of your most unruly fellow fans.
4.Epstein's
82 Stanton St.
Come for brunch on Saturday or Sunday and stick around for the game, and get $3 mimosas til 3pm.
442 Amsterdam Ave.
17 TVs, 2 big screens, a 1/2 price bar on Sundays… You do the math.
1768 2nd Ave.
Warning: Beer goggles are this bar's hottest fashion accessory. But what it lacks in class, it makes up for in cheap liquor. And beer pong tables.