Forget hotdogs and halal carts. Street food has experienced a revolution over the past few years here in New York City. Gourmet food trucks that serve everything from pulled pork tacos to organic veggie burgers to olive oil ice cream are one of the decade's biggest food industry fads. And with over 3,000 licensed food vending trucks here in the city, the possibilities for mobile munchies are practically endless.
Here are the ones I've spotted and couldn't resist:
@waffletruck
My pick: Light'n crispy Brussels wafel smothered in bananas and nutella.. $5.
To find awesome flights to New York go here.
@rickshawbar
My pick: Chicken & Thai Basil dumpling with spicy peanut sate dip and a side of chilled edamame. $9.
@streetsweets
My pick: Croissant with dulce de leche filling and a coconut macaroon. $5.
@bistrotruck
My pick: Lamb cigars and a side of Belgium fries. $5.50.
@biggayicecream
My pick: The Gobbler: vanilla ice cream, pumpkin butter, crushed graham crackers, whipped cream and Craisins.
To find awesome flights to New York go here.
@schnitzeltruck
My pick: cod schnitzel with braised sauerkraut, roasted beets & feta salad, and ginger, scallion & garlic relish. $10.
Track down many of the trucks via Twitter, or visit FindNYCFoodTrucks.com for all of the Twitter pots in one place.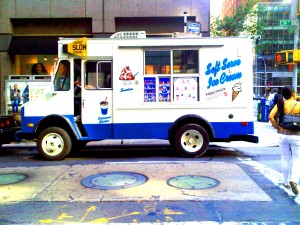 [boilerplate bytitle="Standard"]