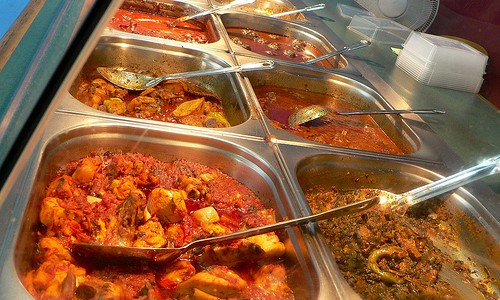 Photo: Sandy Austin
There's nothing quite like a Durban curry. So spicy no amount of water will quench the fire in your mouth, so tasty no other town's curry will quite compare.
Durban curries are derived from the hot peasant curries of the Gujarat and Tamil Nadu provinces, brought to KwaZulu Natal way back when by Indian migrant workers imported to work on the sugar cane fields. These are the curries that fill bunny chows and rotis, the curries that Durbanites the world over long for. This is curry at its best: full of flavour, depth, oomph, and chillies.
To try one of the city's finest, head to the Britannia Hotel, a hidden gem in Umgeni Road, where local Indians take their families for a special treat on the weekends (always a good sign!) Their fish curry is simply superb. Or dine out in style at Vintage, right next door to the popular Bean Bag Bohemia bar and restaurant in Morningside.
If you're feeling more adventurous, head to Victoria Street Market, home of Durban's curry and spice stalls, and then take a wander to Little Gujarat, where all-vegetarian curries, breyanis and samoosas are served up to those lucky enough to be in the know.