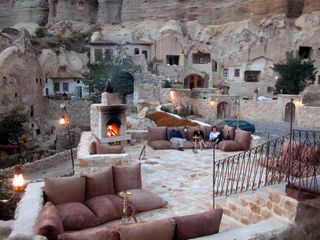 (photo courtesy of
Yunak Evleri Hotel
)
The
Yunak Evleri Hotel
(also called the Cappadocia Cave Hotel) is located in the town of 
Ürgüp
, Turkey, and must surely be one of the world's most unique accommodations. 
The luxurious hotel has been carved into a rocky mountainside, with a total of 30 private cave rooms which date back to the 5th and 6th centuries. The site also houses a 19th century Greek mansion. 
The decor of the rooms is remarkable – uniquely and elegantly designed, featuring hand-crafted furnishings and antiques. Each of the rooms also feature private patios, which overlook the Turkish Mesa. 
Evenings at the hotel are often enjoyed in the comforable setting which is photographed, sitting fireside on large turkish cushions, enjoying time spent with friends. 
Numerous activities exist nearby for the visitor, including hot air ballooning, cycling, horseback riding and trekking, all which are accessible from the hotel.
Nearby within the Cappadocia region, you will also find various attractions, including the Goreme Open Air Museum, Derinkuyu & Kaymakli Underground Cities, and the Soganli and Ihlara Valleys. 
Have you slept in a cave recently?  If so, I doubt it was as luxurious as the Yunak Evleri Cave Hotel in Turkey.