It may come as a shock that I'm no Suzie Homemaker, considering my love for food and entertaining. It's not like I'm anti-domestication, I just haven't gotten around to making myself comfortable in the kitchen. Besides, cooking for one is impractical and expensive! At least that's what I tell myself.
To find awesome flights to New York go here.
However, this weekend I walked past the Little Pie Company in Hell's Kitchen and sampled one of everything they'd let me try, and afterward I could not get their pumpkin pie off my mind.  So good. Since it was terribly rainy on Sunday and I had no interest in the Giants game, I decided to put on my roommate's apron and attempt to replicate it. Here's the recipe I used (a beginner's version):
Ingredients

* 1 (15 ounce) can solid pack pumpkin
* 1 (14 ounce) can fat free sweetened condensed milk
* 1/2 cup egg substitute
* 1/2 teaspoon salt
* 1/2 teaspoon ground cinnamon
* 1/2 teaspoon ground nutmeg
* 1/2 teaspoon ground ginger
* 1 (9 inch) unbaked pastry shell
Directions
1. In a large mixing bowl, combine the first seven ingredients; beat just until smooth. Pour into pastry shell. Bake at 425 degrees F for 15 minutes. Reduce heat to 350 degrees F; bake 25-30 minutes longer or until a knife inserted near the center comes out clean. Cool on a wire rack. Store in the refrigerator.
Way easier than I imagined! And… Voila!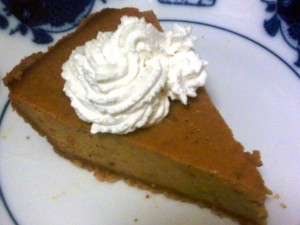 No, it wasn't nearly as good as LPC's, but I have to say…  not bad, not bad at all! I ended up eating it all by myself over the course of the week, but the sweet indulgence in my kitchen victory was just too tempting.