Small towns are my favourite as they have so much history & quaint
traditions.They can be tranquil & are not often tainted by "Big City" living.
Darling is a small town affectionately referred to as the Flower of the West
Coast & is situated 75 kilometers out side of Cape Town.
Travelstart's own "Darling" Wouter Nel, took a trip to Darling to experience
the unique sights & sounds of this fantastic country jewel.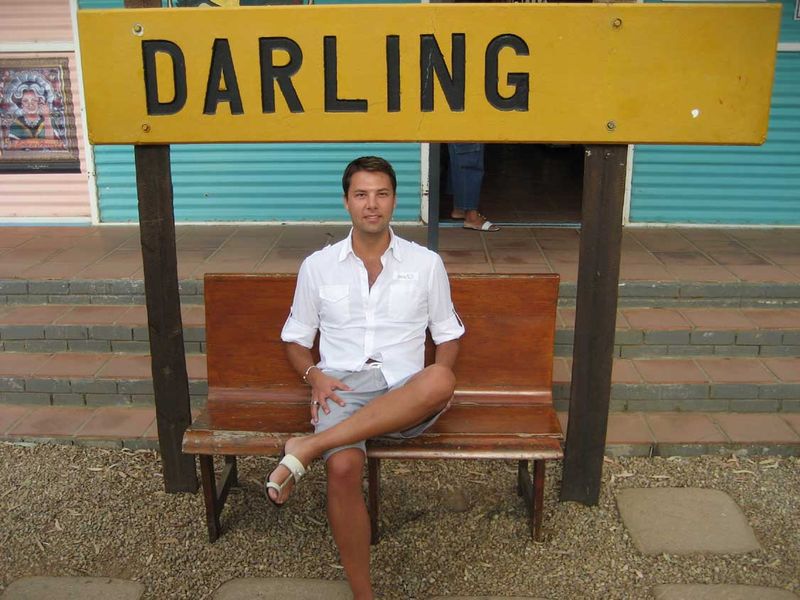 The biggest attraction in Darling without a doubt is Evita Bezuidenhout.
No idea who Tannie Evita is? Where have you been sweetie? She's
South Africa's most famous white female politician (more so than Helen Zille),
she's an absolute icon & is best known for her sharp witty political comedy.
After planting her stiletto heels firmly in the town of Darling, Evita has
converted an old train station to her own, very pi.jpgnk, cabaret theater, called
"Evita se Perron". (www.evita.co.za) 
The people of Darling have even named a street after their heroine
"Evita Boulevard".
Wouter was lucky enough to experience Evita se Perron first hand.
Here is what he has to say;
"Darling was a blast, especially Tannie Evita se Perron, which was the
highlight of our trip. This charming town is reminiscent of days gone by
& gives the impression you've been transported back to the 1950's.
There is even a satirical look at South African's recent dark history with a
park called 'Boerasic Park'. This is a garden dedicated to Boere memorabilia
where you can enjoy a traditional Boere buffet, including koeksisters & melktert".
We were thoroughly entertained by the show "Evita for President".
The Show is about our current political climate definitely supplying plenty
of comedy material that ensures a laugh-a-minute. Tannie Evita certainly
hasn't lost her spark & she definitely guarantees a great day out."
Darling also offers beautiful wine estates that you can visit, such as
Cloof and Groote Post (Wouter recommends this one for its excellent red
wine – & he must know! Yummy).
For weekend breakaways there are some excellent B&B's with plenty of
lovely eateries to visit. One of the highlights on Darling's calendar is the
92nd Darling Wild Flower Show, which runs from 18th to 20th September 2009.(www.darlingwildflowers.co.za).
Why not swap your hubby, a round of relaxing golf at the local golf course,
for some Tannie Evita and flowers, darling.