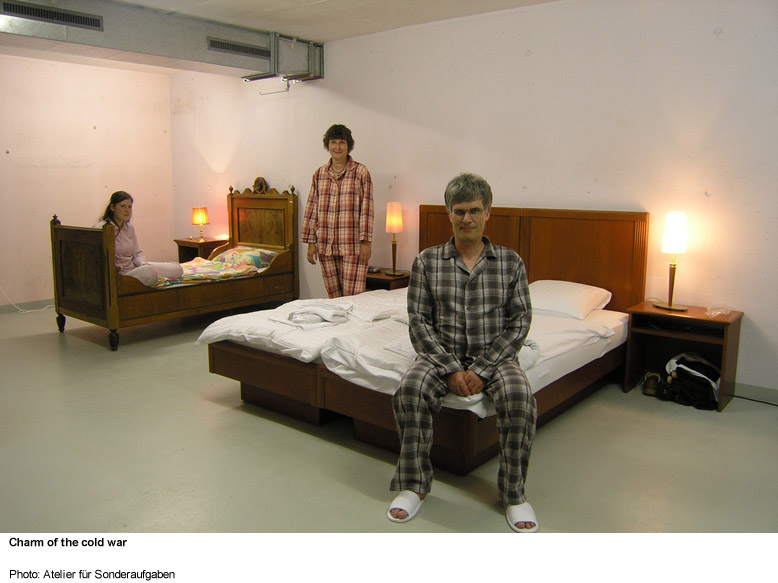 Many of us have stayed in 3, 4 or 5 star hotels, but how many of us can say we've stayed in a Zero Star Hotel?  
Perhaps you've stayed in a zero star hotel accidentally, but two Swiss artists are banking that travellers might stay in one intentially. The concept was the brainchild of Swiss twin brothers and artists Frank and Patrik Riklin, who created the Null Stern Hotel.
Located in Sevelen Switzerland, the Null Stern Hotel is designed as a zero star hotel – a converted military nuclear bunker into low budget accommodations. 
They are branding it as a Zero Star Hotel, a concept they hope can be franchised. From their web-site; "the Zero Star Hotel spi.jpgrit embodies Freedom by using existing resources, while cooperating with and involving different actors from all horizons within the local community."
The accommodations in the military air raid shelter are down to the absolute basics; a bed, washroom, bedside tables and lights. Be advised that it won't have central heating for visitors, so guests better pack some warm clothes.  
The hotel has yet to open, and their web-site states that they don't have an official opening date planned as of yet. The hotel has received considerable media attention, including coverage on CNN International and in a variety of travel publicatons.
If they do open any time soon, I will be curious to see if they are able to attract travellers.