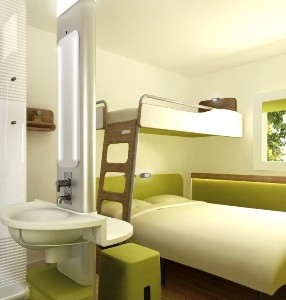 Finding a clean, affordable place to sleep when visiting a new city can be a seriously hit-and-miss affair. Jozi, like cities everywhere, has its fair share of misnomer accommodation options.
If you're wondering where to find best-priced rooms in Jozi, then check out Hotel Formula 1's signature cocoon-concept rooms, available at OR Tambo International Airport, north Sandton, and now Berea.
The Hotel Formula 1's cocoon-concept is at the cutting edge of low-cost hospitality. At 12.5m², the room is  what you'd call 'cosy', with soft lighting and contemporary décor in shades of chrome, off-white and lemongrass.
Central to the design of the cocoon concept room is a functional floor-to-ceiling panel, or totem, that divides the ablution facilities from the sleeping area, with a work surface on one side, and the basin on the other.
Hotel Formula 1 strives to be environmentally conscious, so the shower and toilet is water-efficient, the LED lighting is motion activated, and the energy-efficient air-conditioning switches off automatically when you're not around.
All rooms have a flat screen TV with plug-and-play options, DSTV (satellite TV) and Wi-Fi. A double-glazed window ensures the 'pod' is soundproof, while laminate flooring also helps to damp-out sound.
Rounded corners and surfaces ensure that when you do the sideways-shuffle (and you will), a close encounter with the furniture won't be too painful; and so long as you pack like an ascetic monk, your suitcase will fit under the bed. There's even a wee bit of space to hang your clothes.
A new card security system ensures that no one can nip into your capsule and nick stuff whilst you're trying to solve the ergonomics of how to bend down in the shower to retrieve the soap you dropped…
Selected rooms have a bunk above the double bed, so you could sleep 3 to a room, but whatever you do, don't invite a basketball player or a weight-watchers dropout to spend the night. The rooms' designers clearly had Leonardo's Vitruvian man in mind when they planned the sleeping area.
The cocoon concept was two years in the making, and won the 2008 European Design Awards in the category of Best Interior Design.
If you're a mod-con loving, budget-conscious, or frequent traveller, in need of a decent doss-house in Jozi for a few nights, even considering the cocoon's space constraints, R399 for 1 to 3-person room, per night, is good value.
Moreover, in these best-priced rooms in Jozi, you can earn a few carbon credits at the same time.