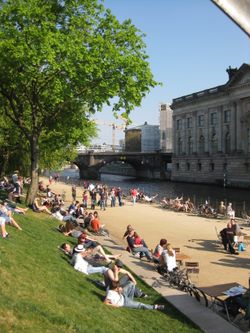 (photo – summer in Berlin)
If you are looking at travelling this summer, or even in the fall, you will without a doubt have noticed the great prices at the moment on airfares, hotels, and even cruises!  I've just booked a trip from Sweden to Canada for the summer with Travelstart, and found a super deal, especially considering that I am travelling in the peak summer travel months.
This week, the NY Times reported in their travel section that without a doubt, a global recession has lead to discounted travel offerings around the globe. Everything's on sale, you could say, with the exception of car rentals….
This Times article reported that while airlines, hotels and cruise companies are discounting their products in an attempt to fill seats and rooms, car rental companies are doing the opposite – they are selling their used rental cars, but not replacing their inventory with new ones.  It's the basic laws of supply and demand – the car rental companies are reducing their inventory of available cars, and thus prices and demand are rising. 
So, if you are thinking of summer travels, that road trip may cost you more this year. But a flight, hotel or a cruise may cost you less.  
Happy travels!