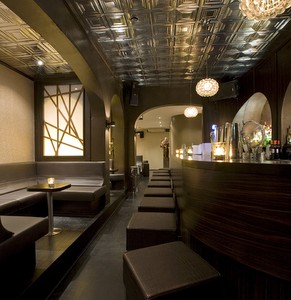 For many travelers, Amsterdam is the home of Amstel and Heineken, as well as other intoxicating substances.  For years, Amsterdam's social scene has been dominated by beer bars, night clubs and coffee houses, but in recent years, Amsterdam has begun to build a small but respectable cocktail scene, with bars such as Door 74 and Feijoa.
Door 74 is a hard-to-find cocktail bar that's reminiscent of an earlier time, when drinking was a civilized affair, and when bartending was a serious craft.  Here, gentlemen and ladies slip through the unmarked entrance, where a hostess leads you to your seat at the bar or in a leather booth.  Servers keep the drinks flowing from a menu that features classic cocktails and seasonal ingredients, and trays of alcohol-absorbing snacks are constantly replenished. The reservations-only bar is an exclusive spot to grab a drink and indulge in quiet, comfortable surroundings among friends.
Down the street from Door 74 is Feijoa, a stylish little bar with eclectic decor and creative cocktails.  Owned by Serjeg Fokke, a co-owner of Door 74, Feijoa boasts well-trained bartenders, who shake, stir, mix and muddle a vast selection of spirits, fruits and fresh squeezed juices.  The bartenders are always happy to talk drinks, and even happier to mix up a drink not featured on the cocktail menu.  Drawing from the wide assortment of ingredients, Feijoa's bartenders will create something to suit individual tastes, whether it's a stout whiskey cocktail or a mellow vodka drink made with "feijoa," the bar's namesake fruit found in South America and New Zealand.
Never a boring travel destination, Amsterdam is best known for its lax drug laws, red light district, risqué window shopping and pulsing dance clubs.  But look hard enough and you'll find unique spots like Door 74 and Feijoa, comfortable havens offering cool drinks to the weary traveler.