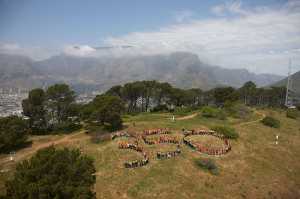 As I am sure many of you know by now, Saturday, 24 October 2009, was The International Day of Climate Action. Worldwide, various demonstrations took place in a call to Governments and Authorities to take action for a positive change in our current climate situation. These demonstrations were photographed, documented and publicized.
What is it all for?
The United Nations Climate Meeting is to be held in Copenhagen in December this year. All actions and demonstrations will be presented in this meeting, to
remind our leaders of the urgency and reality of this climatic crisis. The intention is to put pressure on the UN to implement rightful action. 
Why 350?
The number has to do with the level of carbon dioxide in the atmosphere. Atmospheric concentrations of CO2 at a level of 350 parts
per million is safe. Currently, this level is sitting at 390 parts per million.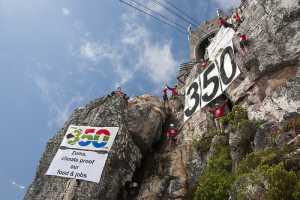 Over 5200 events took place in 181 countries across the globe, 17 of which were held in Cape Town alone. I feel priviledged and blessed to say that I was a part of this incredible united stand for our planet! The plan was to hike up Table Mountain to form a 'human 350'. Unfortunately, due to bad weather conditions, plans changed. Instead, we hiked across from Table Mountain to Signal Hill. It was an awesome occasion that brought together like-minded individuals. We discussed easy ways to conserve energy and change small everyday activities that can make a huge difference. I shall do more research and share such ideas with you in time to come…
A great, big thank you to all the organisers and coordinators. And an extra special thanks to my dad, Jose and my spi.jpgritual sista, Cherise for joining in as well!
Love and Peace