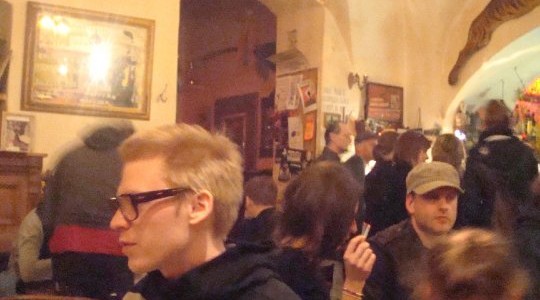 Visiting Prague for the first time? Skip the madness of Charles Bridge and Prague Castle (or check them out after midnight), and head to the cafe-bars where only those artfully in the know go…
U Knira, Delnicka 24
Maybe you're over hostel stays, but you should in any case still check out the performance space known as "U Knira" at Sir Toby's Hostel. Starting at 7pm on Wednesday nights, the downstairs bar/lounge area screens unique, independent films from CZ and all around the world with English subtitles, followed by a live performance that varies from week to week (past events include a VJ remix of Fight Club and Reservoir Dogs and an acoustic band), capped off by an electro beats party to get your dance on. The cushion seats are comfy, the vibe is generally chilled out and of course international, and the happy kitchen staff serve up a special ethnic cuisine each week, so be sure to grab a plate before its gone. If you've had enough of Czech beer (Kozel and Staropramen are on draft), order a tea and prepare yourself for a delicious adventure in sipping.
Duende, Karoliny Svetle 30
Duende is indeed a dandy place to be, seducing you with its groovy tunes and crazy circus of characters fresh from class at the nearby film and architecture schools. Try to grab one of the window seats for a perfect people watching view and look around at the gleefully haphazard décor to discover the true meaning of kitsch, Czech style. Or sit at the bar, by the monstrous antique cigarette machine, and be transported at warp speed into a Calvino novel of conversations.
Kavarna Potrva, Srbska 2
Potrva literally means "the show must go on" in Czech. Run by students from Charles University's theatre department, this kavarna (coffeehouse) and bar has a cozy terrace garden for a sunny drink or chewy ciabatta sandwich. Almost every evening of the week at 8pm, Potrva's professional theatre stage comes to life with a play, concert or cabaret. The crowd is cool but not pretentious, and you'll find plenty of people (and dogs) hanging out for a round of poker, chess and other board games that are available at the bar. Excellent variety of lounging around music combined with some of the nicest wait staff in Prague will keep you here longer than you expect.