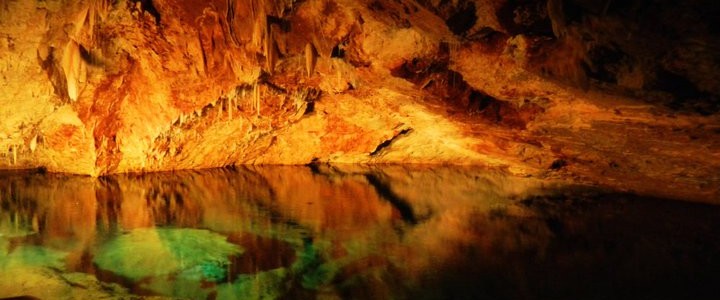 Ask me why I hadn't previously considered Bermuda for a long weekend trip and I'd have no real answer. I've done D.C., Boston, Raleigh; heck, I've even hightailed it to San Francisco and back in four days, just for a much-needed change of scenery. But two weeks ago I had the opportunity to make a break for Bermuda (all expenses paid!) and I realized what a no-brainer it is, especially for New Yorkers. Two-hour flight: check. Secluded beach: check. No half-naked college kids: check.
Here, my top 10 list for the beautiful British-flavored island:
1. Bailey's Ice Cream Parlour
To say I simply "checked this place out" would be a gross understatement. I was there twice. Per day. (It's still sticking to me.)
2. Swizzle Inn
The oldest pub in Bermuda serves up the nation's official drink, the Rum Swizzle, with a hefty dose of island attitude. (The staff's t-shirts read: Swizzle Inn, Swagger Out.)
3. Crystal Caves
http://www.caves.bm/pages%20folder/crystal.html
Awe-inspriing underground formations backlit by a pristine lagoon: a must-see. Forget the "getaway,"—you'll feel like you've traveled to a whole other world.
4. Elbow Beach
A mile-long stretch of pale pink makes this one of Bermuda's most popular beaches. Get there early to stake out a prime spot.
5. The Messaround
If waking up at 5am is acceptable, a deep sea fishing excursion is worth a try. We didn't catch anything, but the captain and first mate of the Messaround were a delight.
6. Tom Moore's Tavern
Irish poet, Tom Moore, used to frequent this tavern, and though the house still has its 17th century English charm, the menu is quite up-to-date (albeit pretty pricey). The catch of the day was Rockfish, a Bermudian favorite, which might be my new favorite.
7. Wahoo
This restaurant in St. George's opened two weeks before I was there, and although it seemed like the locals still weren't in on the secret, the food was amazing. Grab a seat on the deck for a fantastic view of King's Square and the ocean.
8. Dockyard Glassworks
Great gift shop in the Royal Naval Dockyard housed in what used to be a ship repair yard. Handblown class items at one end, and a "microbakery" at the other!
9. Fort St. Catherine
The first settlers came ashore at this spot in 1609.  Though I didn't visit the museum inside, the seaside fort is impressive just to look at. And the picturesque beach right next to it will be my go-to next time I'm there.
10. Bermuda Maritime Museum
Explore Bermuda's largest fort, filled with artifacts, maps, maritime art, models and cannons. The enclosed Commissioner's House, once the British colonial government's equivalent of the White House, is extremely well-preserved.