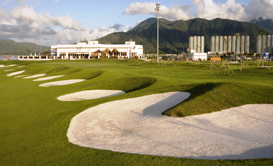 There's a 2004 film called The Terminal, which described the adventures of a person stranded indefinitely inside JFK International Airport in NY.
Now I must admit that I haven't seen this film, nor have I ever been to JFK International Airport. But I have visited 70-80 airports in my day, and were I to become stranded in one indefinitely, there are three airports I'd most like it to be.
Amsterdam's Schiphol Airport is colorful and vibrant; it serves as a European hub for flight connections, so it's filled with people on the move. The airport offers a great variety of shops and restaurants, an art gallery, a museum (called the Rijksmuseum) and even a casino.
But if you have a really lengthy wait ahead of you, its best feature may be the recently-opened Airport Library. Not only are libraries cozy and peaceful, but their contents are never-ending. I can think of no better place to completely lose track of time than a library, the perfect antidote for flight delays.
2. Hong Kong International
Hong Kong is one of my favorite destinations in Asia, and its International airport makes a wonderful impression. Beyond the usually shopping and dining opportunities, a 4D Extreme Screen theater, Aviation Discovery Centre, Asia Hollywood, i-Sports interactive sport simulators and free wifi give you plenty to do during short waits.
For the longer delays however, you might want to step outside the airport, get some fresh air and, I don't know, play a little golf. HK International has its own golf course, the SkyCity Nine Eagles Golf Course.  Perhaps the most dramatic time to fit in a game there is when the sun goes down; the course is illuminated and offers night-golf.
1. Zurich Airport
Zurich often ranks as the number one city in the world. So why should its airport be any different?
Long delays in Zurich are the nature-lover's dream. You can rent inline skates or bicycles from the service center, before heading on outside and touring the natural area surrounding the airport. Over 20 kilometres of terrain are ready to explore, a great way to do something healthy while stranded.