The Mother City is the hottest place to be this summer, you'll find Capetonians lounging poolside on rooftops across the city, martinis sweating in the sun, perfecting tans and the art of looking very, very good while doing very little. In no particular order, here's our savvy guide to keeping things cool for sunseekers and serious swimmers alike.
1. Zenith Pool Deck & Sky Bar at the Cape Royale Hotel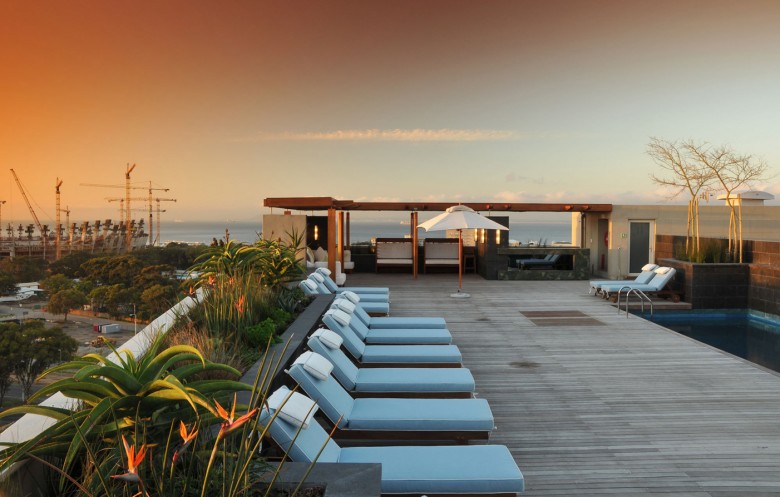 Courtesy of Preferredhotels.com
Surely the best rooftop view in Cape Town, swim in the inviting deep blue water at the Zenith while catching the last rays of sun bouncing off the stadium. Order an expertly-mixed cocktail or indulge in sushi, noodles & tapas. And the best part? Entrance is free.
Open: 8am to 12pm
47 Main Road, Green Point
Call: 021 430 0500
Sunseeker or serious swimmer? The verdict: sunseeker (and cocktail-drinker)
2. Batstone Pool – Work, Swim, Lounge, Sip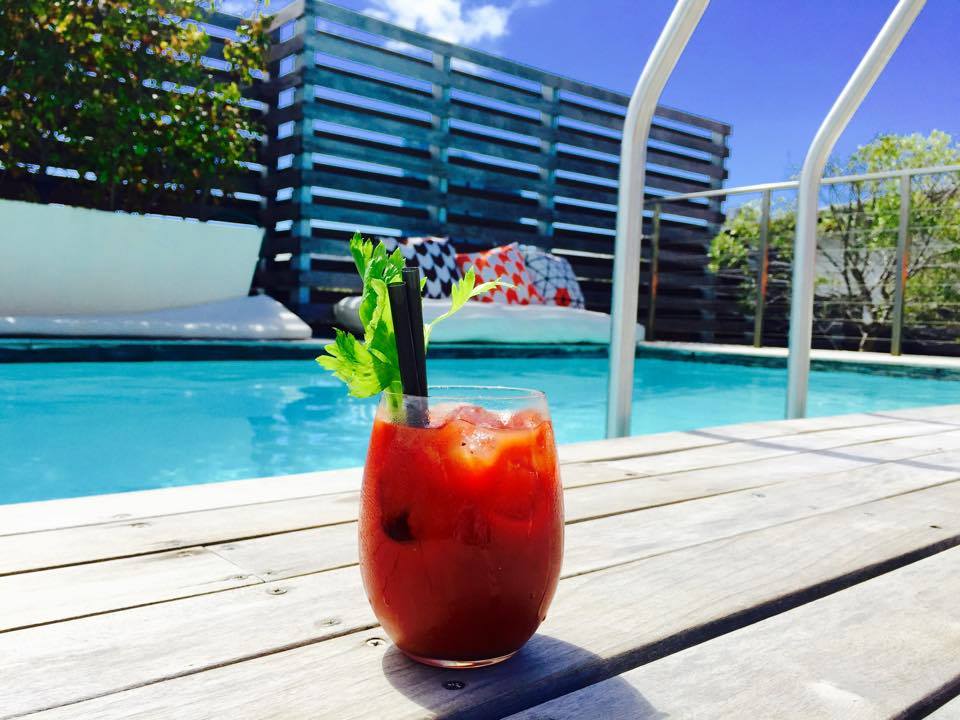 Courtesy of Batstone Pool Facebook
Where hip Capetown comes to work and play, Batstone pool offers remote workers and sunworshippers an ideal atmosphere to catch up on emails in between a welcome plunge in the pool. Step into the Napier street elevator Level D behind the Spar at Cape Quarter and ride your way to an inner city oasis.
Cost: a R150 spend at the bar secures you a lounger and towel. Or buy a R100 ticket which includes welcome drink, lounger and luxe towel.
Open: Wednesday to Sunday from 11am to 7pm
Call: 079 973 8368.
Inner City Ideas Cartel Members and Batstone Pool members can book loungers in advance, walk-ins cannot. Be sure to call ahead to book a lounger as space is limited.
Sunseeker or serious swimmer? The verdict: sunseeker. Best for a sneaky afternoon swim in between work or better yet your new outdoor office.
3. Seapoint Pavilion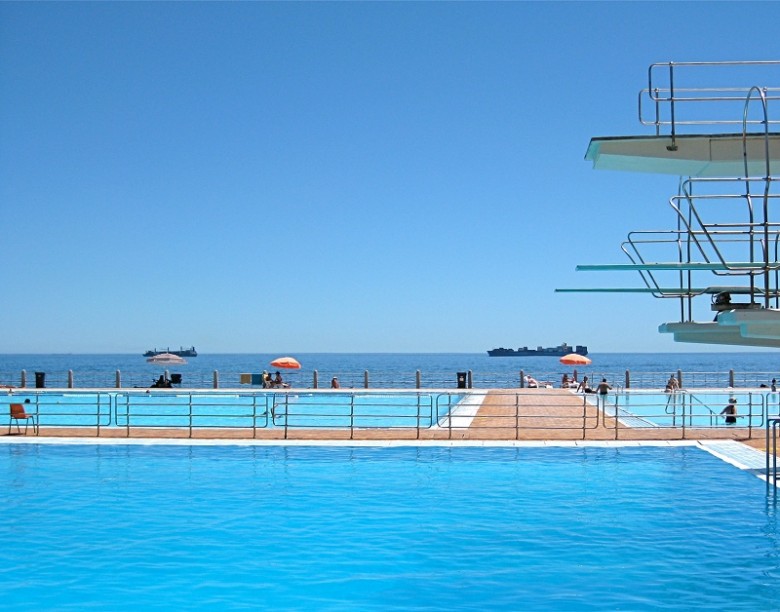 Courtesy of Splash and Burn
For many visitors to the Mother City, the Seapoint pavilion is summer. The recently renovated, iconic grand dame of the the Seapoint promenade frequently features top on the world's best swimming pool lists. Behemoth tankers skim the horizon, laughter rings out over the water and the bells of the ice cream bicycles sing as they wend their way past. The filtered seawater is clean and fresh. During peak season this is the most buzzing place to be in Cape Town so go early if you're looking for a serious workout. You have the choice of 4 changing rooms with amenities. Sea Point Swimming Pool is open all year round. This is a must-visit destination for travelers seeking an authentic Cape Town experience.
Winter hours: 9am to 5pm
Summer hours: 7am to 7pm
Daily admission fees for adults: R21.00
For children: R10.50
Call: 021 434 3341
Sunseeker or serious swimmer? The verdict: both
4. Long Street Baths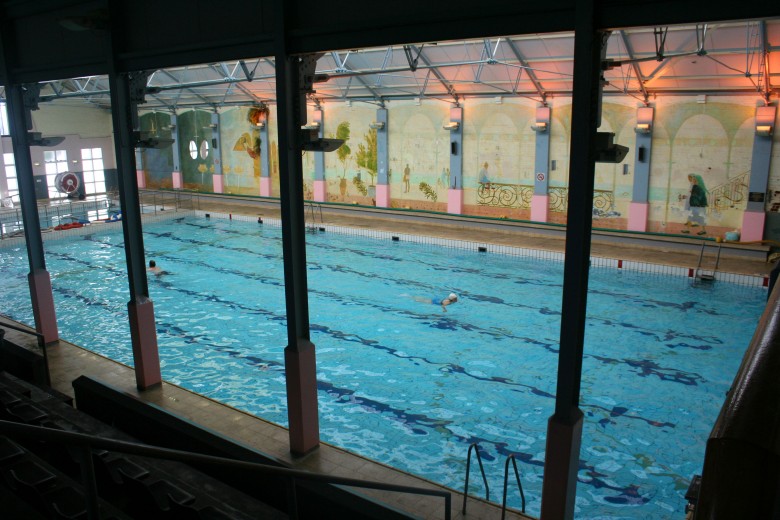 Courtesy of Cape Town Government ZA
The dreamy murals at Long Street Public Baths will have Wes Anderson fans swooning. Many people walk past the Long Street baths without ever venturing inside. Nostalgia and practicality meet in this venerable public facility. There's a children's pool, refreshing plunge pool and Turkish baths as well as 25m lap pool. The Baths are open to only women or only men on certain days, call the number below to check.
An hour in the Turkish baths costs R56.50.
A shower is R17
Adult admission to the heat controlled indoor swimming pool is R21 per session and R240 per month.
Children's admission is R10.50 per session and R105.50 per month.
Free for pensioners
Opening hours: 7am to 7pm every day of the year
Call: 021 422 0100
Sunseeker or serious swimmer? The verdict: serious swimmer
5. Palatial poolside bliss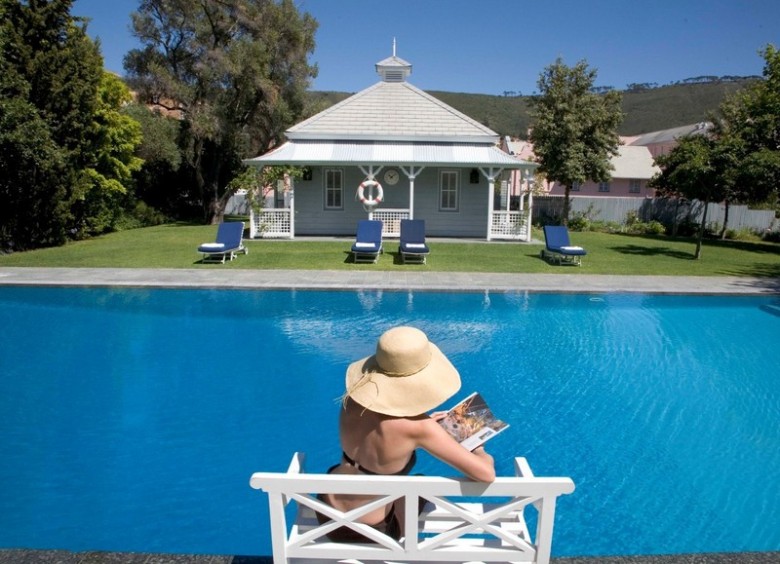 Rumour has it that at the luxurious Belmond Mount Nelson if you book a spa treatment you may have a shot at a swim in the palatial waters that abut the spa. Spend at least R500 on a treatment (scalp massage and manicure or pedicure feature among many other options) and confirm whether you will be able to use the pool after your treatment when you make your appointment. The Blush pink buildings, elegant grounds and sophisticated loungers are calling your name.
Enquire at Librisa Spa, Mount Nelson for more info: 021 483 1550
76 Orange Street
Sunseeker or serious swimmer? The verdict: both
Keen for more Cape Town life hacks?
Read:
6. Summer fun at Vulindlela Swimming Pool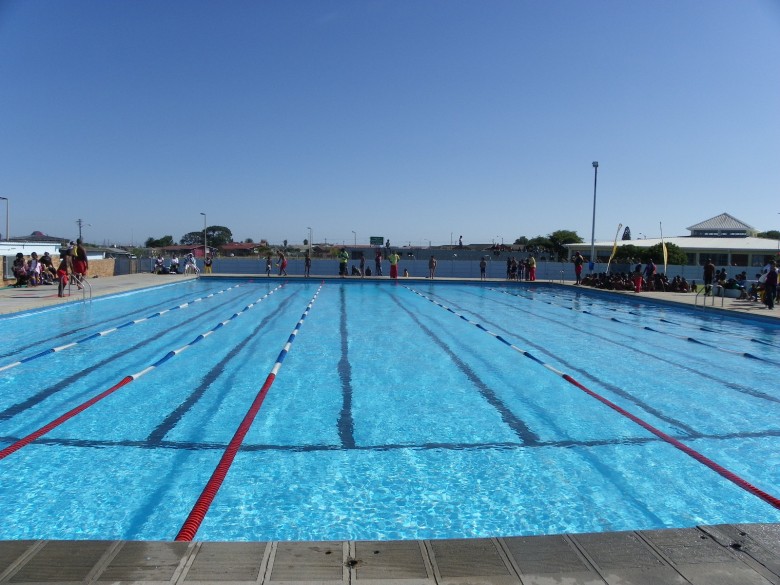 Courtesy of Cape Town Government ZA
It's not just the Cape Town CBD which has great swimming facilities, Vulindlela Swimming Pool in Gugulethu has a 38m main pool and 15m children's pool with the pool area able to accommodate 700 patrons at one time. There are 15 parking bays available. Summer days are a haze of cheers, dive bombs and happy swimmers.
Adults: R6
Children: R1.50
Pensioners: Free
Corner of NY145 and NY117, Gugulethu
Call: 021 637 5097
Sunseeker or serious swimmer? The verdict: both
7. The Cape Milner Hotel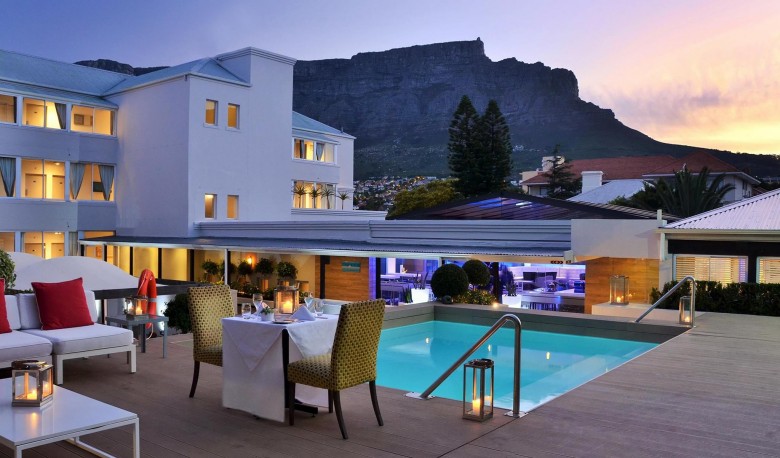 Courtesy of The Cape Milner Hotel Facebook
Enjoy the spectacular panoramic view of Table Mountain from a comfortable poolside lounger. The pool is more of a refreshing plunge so save the laps for another day and order the battered fish or steak.
Cost: Mimimum spend of R100
The poolside food is excellent so head here for an early lunch, spend R100 and lounge and swim for free
Call 021 426 1101 for more info
Sunseeker or serious swimmer? The verdict: definite sunseeker
8. Good vibes at Newlands public pool
Courtesy of Curiouscat wordpress
Looking for a spot to do some serious swim-training in a relaxed environment? Newlands public pool is spacious with a sizable grass area, spectator stand, 15m children's pool, kiosk and 50m main pool. There may even be some goslings taking a dip when you visit (see above photo). This is a friendly spot to pass a pleasant afternoon and also fit some proper exercise in.
Open: 10am to 5pm
Daily admission fees:
Adults: R21
Children: R10.50
Pensioners: Free
Main Road, Newlands
Call: 021 674 4197
Sunseeker or serious swimmer? The verdict: both
9. The Glen Boutique Hotel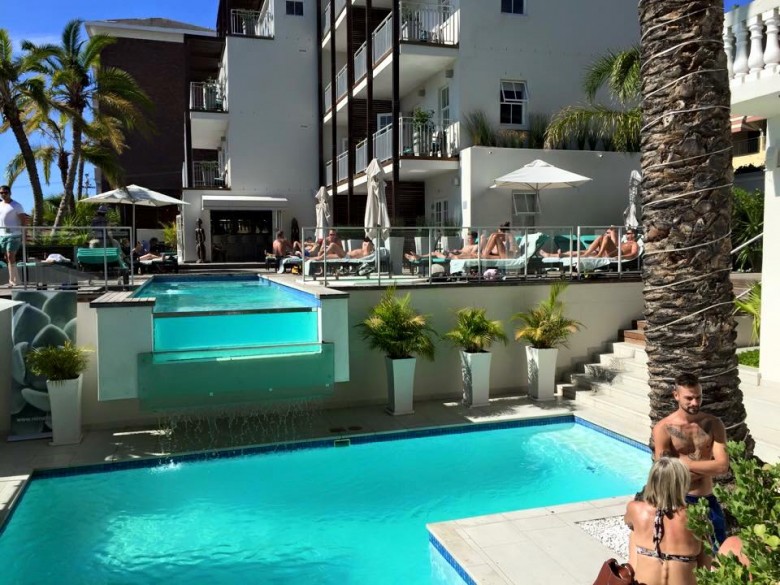 Courtesy of The Glen Boutique Hotel
A set of turquoise pools, Dionysian cocktails, fashionable swimwear for sale and cosmopolitan atmosphere makes The Glen Boutique Hotel a choice summer spot. LGBTQ. Find this happening summer spot in uber hip Seapoint.
Cost: minimum spend of R50 per person, order a sumptuous cocktail
Call: 021 439 0086
Open: all year round from 8am to 9pm everyday
3 The Glen Road
Sunseeker or serious swimmer? The verdict: sunseeker, swimwear shopper & cocktail drinker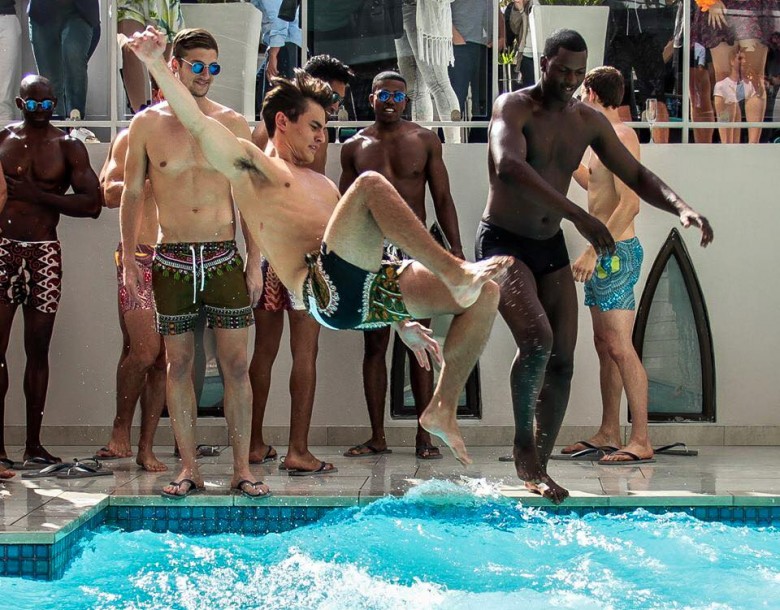 Courtesy of The Glen Boutique Hotel
10. Trafalgar swimming pool, Woodstock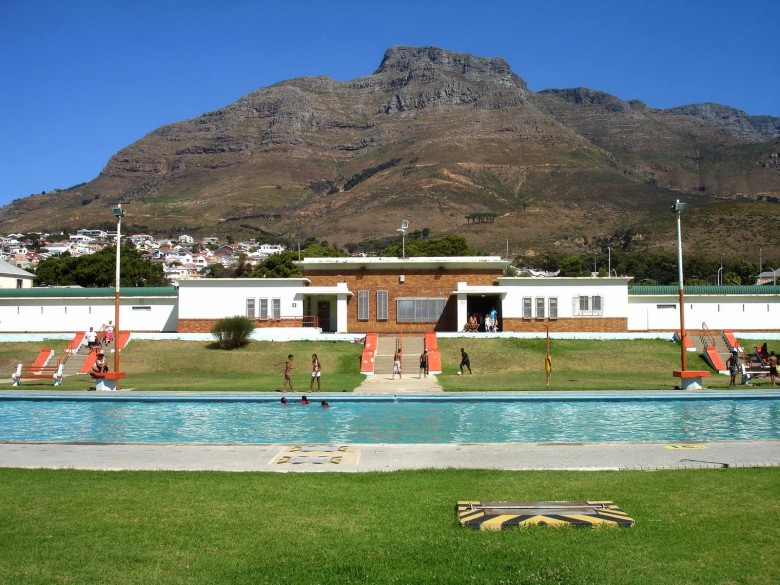 Courtesy of Robert Bowen via Built Fabric Blog
Verdant green Trafalgar swimming pool provides respite from the creative buzz of Woodstock. Trafalgar opens for the summer season each October, closing in winter in April. It can accommodate up to 150 people in the pool at one time and entrance is affordable with ample space to spread out on the grass for picnics and most importantly swimmers have 48m to burn through each leg or 22m in the case of the children's pool.
Opening and closing times:
10am to 5pm
Cost:
Adults: R6
Children: R1.50
Pensioners: Free
Searle Street, Woodstock
Call: 021 461 5060
Sunseeker or serious swimmer? The verdict: serious swimmer
Keen to beat the heat? Cheap flights to Cape Town are a click away.