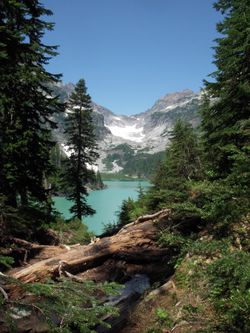 On a recent trip to Seattle, two friends took me out to the surrounding nature, to the Mt. Baker-Snoqualmie National Park.   
Our goal of the day was enjoy a 6 hour hike on a new route called the Blanca Lake Trail, and have a pi.jpgcnic up at Blanca Lake. 
The hike was an enjoyable one, ascending for 3 hours through the old growth forest and alpi.jpgne meadows. We had a bit of a misty day, filled with low clouds and a moisture in the air. There was a slight breeze.  
After a few hours, we arrived at Blanca Lake, and it didn't disappoint.  The water was such a radiant, unique shade of blue that I wondered if it was real.  My friend jumped into the ice cold water, just to prove that it was. (real cold that is!)  
The Mt. Baker-Snoqualmie National Park is a great source of price amongst natives of Washington State in the U.S. The enormous park covers so much area, than nearly 2/3 of the entire state population, live within 100 kilometres of it. 
It's popular for a day trip, a pi.jpgcnic, and many people camp in the park. It's open all year round, although the weather conditions very greatly between summer and winter. 
If you plan on visiting Seattle anytime soon, be sure you leave the city and explore the surrounding nature. One of the U.S. biggest parks is less than an hour's drive away.