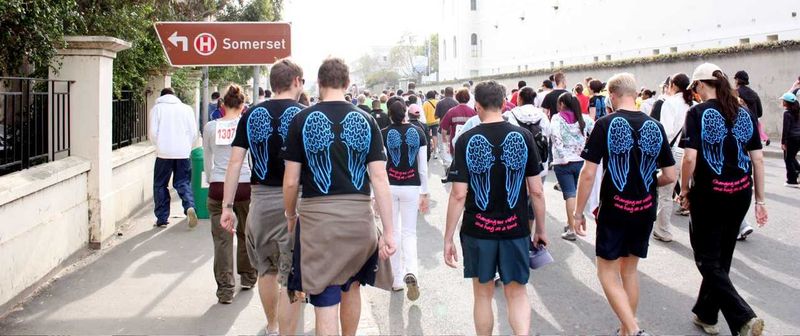 53 Travelstart Angels got their game face on, ready to bend this walk to their will and make it to the finish line triumphant.   Due to overwhelming response from the SA public to this great event, we unfortunately lost one of our Angels in the traffic!
And then there were 52.
I was that fallen angel, so I am living that day vicariously through the experiences of the others who managed to make it through the walk on that beautiful sunny Sunday morning.  The first thing that struck all of us was the sheer number of people that arrived and even though I couldn't make it, I could feel the excitement building as the crowds made their way to the track.
There was a mad scramble before the walk as Travelstarters tried to find each other in the throng of people getting ready to start.  Although we all got split up, it became fun spotting each Angel as we walked along… Blue wings and broad smiles tend to stand out!
As part of the Travelstart Angels initiative, Charlene, Diana and I had designed a T-shirt to promote our message and when we presented it to management, they loved it and decided to have them produced for every Travelstarter – this was our kit for the day.  Needless to say, our Angels were soon flooded with compliments!  We had so many people stop us to ask what Travelstart Angels is all about so we were able to spread our message – 'Changing our world, one hug at a time'.  We were obliged to give warm and loving hugs to all those that requested one – and there were many!  Eventualy it felt like we were hugging more than walking and Diana's son Daniel pleaded: "Mom, do I have to give more hugs?"

We felt our hearts swell with pride and awe at what we had managed to achieve and everytime we spotted a pair of blue wings in the distance, we couldn't help but smile.