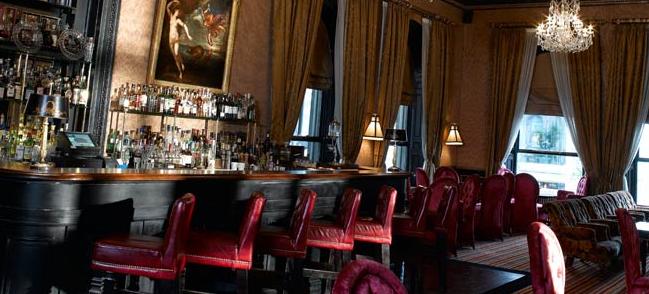 Once steeped in political violence and unrest, Northern Ireland now conjures a different image to the world, and Belfast, its capital, has led the charge.  Belfast is the biggest city and capital of Northern Ireland and is now home to world class dining, drinking and hospitality.  The five-star Merchant Hotel is perhaps the best hotel in the city, bolstered in large part by its celebrated bar.
The Bar at the Merchant Hotel is dedicated to classic cocktails and techniques.  Manager Sean Muldoon oversees the vast selection of spirits and the cocktail menu, which is actually a 60 page book.  The menu features a large assortment of classic cocktails, from highballs and coolers to fizzes and flips, and it regales drinkers with bits of history, a glossary of terms and a glassware chart.
At the 2009 Tales of the Cocktail Festival, held annually in New Orleans, Louisiana, The Bar at The Merchant Hotel was named the "World's Best Hotel Bar," and its menu was recognized as the "World's Best Cocktail Menu."  Throw in its "World's Best Drinks Selection" award, and The Bar was the star of the awards proceedings.  The Merchant's bar was the only European venue to win any awards at the event.
Often overlooked by travelers to the United Kingdom, Belfast is certainly worthy of a visit, and if in Ireland, The Bar at the Merchant Hotel is a destination that can't be missed.