Budapest
, the capi.jpgtal city of Hungary is a fascinating place to visit, and is surely one of the most photogenic cities in Europe.
This photo is of the famous Chain Bridge (Széchenyi lánchíd), originally built in 1849. It is one of several bridges that cross the river Danube, and connects the cities of Buda, and Pest, that comprise Budapest.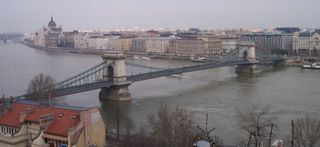 To the west is hilly Buda (left side of photo), home of the historic Castle Hill, the Buda Royal Palace, the Citadel, and various other tourist attractions.
To the east, the flatter Pest is the commercial core of the city. Pest has countless tourist attractions as well – the Opera House, National Museum, Museum of Fine Arts, the Heroes Square, the Parliment, and the Széchényi Baths, the traditional public bath house that is a must-see for any visitor to Budapest.
Asides from being a pi.jpgcturesque city to visit, it is also one of the most affordable places in Europe. Exploring the city is easy on foot, and the metro and light rail networks are easy to use and cover every region of the city extensively. The food culture is superb; I recommend you sample any of the traditional local dishes, the bakeries, the coffee houses, and you will find Hungarians are very proud of their domestic wines. Oh, and the nightlife is very alive in Budapest – just ask the young locals where to go any night of the week.
Buda + Pest = Budapest, one of my favorite cities to visit in Europe.