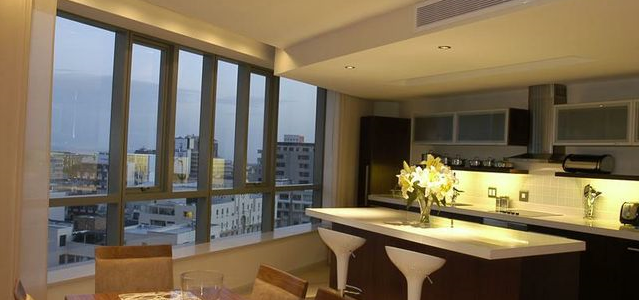 Being the funky, global tourist magnate it is, Cape Town accommodation can be plentiful and sometimes a bit confusing with the myriad of hotels on offer. What often happens is that everyone picks out the well-known hotel brands to accommodate themselves, playing it safe – the last thing you'd want is to be stuck in a dodgy dive while on holiday. Well here's a guide to 5 funky, hip hotels (in no particular order) which won't break the bank and make for excellent stays if you're looking for something a little bit different in the Mother City: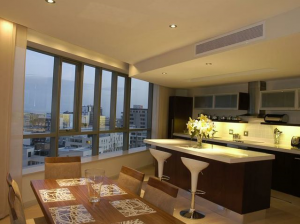 1. Mandela Rhodes Place – Central Cape Town Accommodation
The uber chic address of Mandela Rhodes Place is an almost secretive spot not to be missed out on when visiting the Mother City. This block is set right on the corner of St Georges Mall, accross the road from St Georges Cathedral and the Parliament, you couldn't be more central than this! The hotel section consists of luxury, self-catering apartments with a stunning roof-top swimming pool in the building. Below are an array of top-class restaurants and wine bars making grabbing a bite to eat a very easy and very delicious affair! This sort of luxury does not have to come with an extortionate price tag, be sure to check up on rates as they're often less than many of their poorer quality counterparts in the city.
For rates and availability enquire HERE.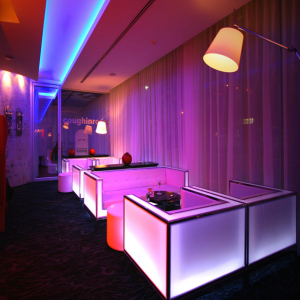 2. Protea Hotel Fire & Ice – Central Cape Town Hotel
This is arguably one of Cape Town's funkiest hotels, known previously as the Extreme Hotel, the rebranded Fire & Ice Cape Town Hotel has lost none of its extremeness. Set in the upper reaches of the city centre, this hotel has an excellent location and views of Table Mountain. Rooms are ultra-modern and slightly cheeky with (frosted) glass bathrooms, they are reached by passages which resemble the inside of a lava lamp a little! Have a swim in their deck pool, the wall is made of glass and is in turn the wall of the gourmet burger & shake restaurant in the hotel. There's so much intriguing about this hotel from the posh, modern bar and a lift which looks like a shark cage inside to the crazy bathrooms themed like you're half way up a building in a construction site and another like you're inside a shack! This is a hotel not to be missed if you're feeling a little wacky and are looking for a fun break!
For rates and availability enquire HERE.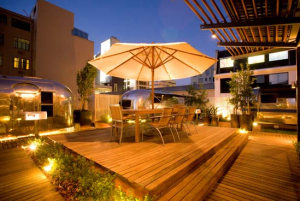 3. Grand Daddy Hotel – Central Cape Town Accommodation
Now we said Cape Town hotels were funky and this hotel is no exception, even if it was for only one reason: the trailer-park on the roof! Situated in bustling Long St, this old building has a dazzling array of unique touches, from it's stylish restaurant (complete with it's own Vida e Caffe) to its old-fashioned cage lift through to those quirky and bizarre trailers on the roof – an yes, they are rooms you can book into! Not to be missed is its hip bar – the Daddy Cool – with kitsch-cool gaudy decor which is something like 70's disco meets Palace of Versailles! Rooms are modern within the hotel and down-right wacky in the trailers – whether it's polka-dot themed, afro-chic themed or goldilocks and the 3 bears themed, you couldn't have begun to imagine it before hand! Definitely worth a try!
For rates and availability enquire HERE.
4. The Pepper Club – Central Cape Town Accommodation
One of the newer additions to the Cape Town Accommodation scene is the self-catering apartments of the Pepper Club, situated on Pepper St, it's the new hip spot to be seen at. It's close to all the busy Long St bars, so it's a quick stumble home after a night out on the town, and virtually no distance at all by car to all the major Cape Town sights. Be sure to take in the hip contemporary restaurant, stunning gym with breathtaking city and mountain views as well as the luxurious spa. All guests are given VIP access to the Beach Club – the Pepper Club's upmarket Camps Bay restaurant and cocktail bar – as well as St Yves, the exclusive night club with beach views. This spot is a little more than the others we've mentioned but makes for an unrivaled decadent weekend away!
For rates and availability enquire HERE.
5. 15 On Orange – Cape Town Hotel
Another brand spanking new Cape Town Hotel is 15 on Orange, part of the African Pride collection of exclusive hotels, this new kid on the block is one bound to leave an impression, as much by driving by as by staying there. The entire hotel has a sort of inside-out feel with ultra-modern rooms' windows gazing into the central atrium. The hotel sports fantastic city views and an incredible bar area where one is able to actually be seated within the giant glass chandelier! As one Cape Town hotel tries to outdo the next, this is definitely no exception and if you're looking to impress that someone special this is a hotel which will definitely not disappoint!
For rates and availability enquire HERE.
Images from respective hotel websites.
[boilerplate bytitle="Standard"]