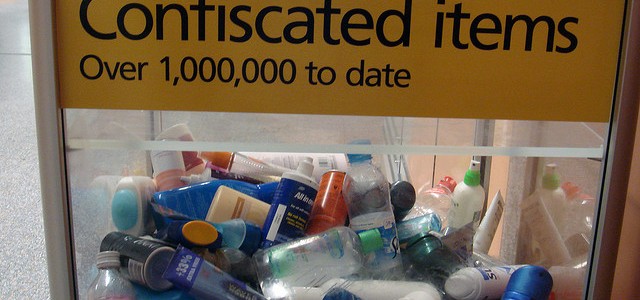 As travel agents we often get asked a lot about the tedious liquid, aerosol & gel restrictions on hand luggage which were implemented by the International Civil Aviation Organisation (ICAO) a couple of years back when the UK managed to foil a bomb plot using liquid explosives on aircraft. Well, according to Raymond Benjamin, secretary of the ICAO, with new technology capable of detecting these explosives, this could be a thing of the past by 2012 if the technology is rolled out globally. But for now, here are a few guidelines until that happens:
International Hand Luggage Restrictions
Lets try make this simple: you may only take on board, in your hand luggage, any containers, containing liquids, aerosols or gels with a capacity of 100ml or less each, all of which must be placed inside a 1l clear resealable bag (no bigger).
It doesn't matter if you only have a drop of liquid in a 150ml bottle, that container will not be allowed on board; it may not exceed 100ml in capacity (not contents). It doesn't matter that one container will be 50ml and another 150ml, each container may not exceed 100ml. All these containers must also fit into one 1l clear resealable bag (eg Ziploc bag).
The ICAO refers to "LAGs" which stands for Liquids, Aerosols & Gels so the above guidelines also refer to all three. Ladies, that means leaving your bulk bronzers and gents that jumbo tube of wet-look gel out of your hand luggage. The Airports Company South Africa (ACSA) publishes handy info regarding this as well.
Now, don't worry, not all cosmetic hope is lost, those beautifying lotions can go in your hold luggage for safe-keeping, provided they comply with the individual country's customs laws.
Domestic Hand Luggage Restrictions
While the domestic hand luggage restrictions should be the same as for international flights, many of us who've tested the system a little will have found that for domestic flights within South Africa, security are not hugely phased by anyone carrying on containers over the 100ml liquid capacity. You can risk it if you like, but the security may still throw out your liquids if they deem fit – but quite honestly, we've not heard of that happening to anyone in a while.
Hope this helps a bit, feel free to ask questions!
Image from msmail on Flickr
[boilerplate bytitle="Standard"]