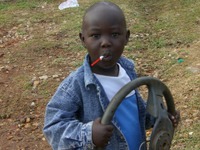 In the middle of the night two SMS arrived. Don´t go demonstrating! Don´t send hatred SMS! That´s the kind of initiative the Government takes when the country stands in front of a crisis. They just sit there – in their chambers and sulk. The two who consider themselves being leaders of the country – Raila Odinga and Mwai Kibaki. At the same time people who feel they have been betrayed walk the streets, demanding their right. Some demonstrate with a white flag in their hand, others with a panga, (large knife). The ones feeling most betrayed chase the ones from the same traibe as Kibaki, Kikoyos. But it is still poor chasing poor, while the ones that have something to say just sit and sulk in a corner. Everyone with some sort of outstanding insight in the election campaign says that the final counting was not correct.
50 000 votes from one election constituency was counted up 20 000 votes, and so on. A betrayed people. That is what the Kenyans that I spoke to say today. A deceived people. An honest election became a farce at the end. And now the road is closed. Wait for a first move. Wait for an initiative. But Raila and Kibaki do not meet. The conversation that might put the crisis to an end does not happen.
I can´t go to work today. The road I normally drive is blocked by angry demonstrants. But tomorrow they will be gone. I think. The big demonstration in the city is postponed until next Tuesday.
Wait.
The tourists flee the country. The tension is certainly very tensed. Everything can happen. But tourists are not targets. It is the poor chasing the poor. And the police shooting at the poor. With tear gas, water cannon and rubber bullets. Tourists are not affected directly. Yet they can not go the Masai Mara safari park by car. The road leading there is blocked. They can not go to the city of Mombasa, it is too much disturbance there. But they can lei by their hotel pools, they can walk on the beaches, they can snorkle, they can drink their Tusker beer. They can go to Lamu or Malindi. Yet today they can not go from Nairobi city to Jomo Kenyatta International Airport. The road is blocked by the police to prevent demonstrants from reaching the city center.
So that the Swedish Ministry of Foreign Affairs advises against non-essential visits to Kenya is reasonable. It is wiser to wait a week or two. But for the foreigner who is here, it is not dangerous. Not at all. It is not dangerous, but worrying. And awaiting. Like sitting in a waiting room. For long.
Text: Hans Lind
Translation: Antonia Johansson