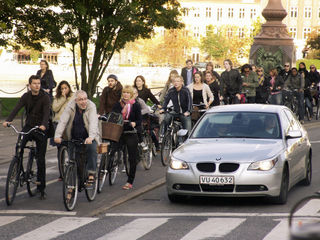 (
photo courtesy of
Pesterussa
) 
When you first arrive in
Copenhagen
, the capi.jpgtal city of Denmark, probably the first thing you will notice is the biking culture that exists in the city.
The streets are filled with cyclists, 365 days a year. In fact, the International Cycling Union even named Copenhagen "Bike City" in 2007.
The local Danish people love to ride their bikes, and currently over 35% of the city's residents travel every day by bike. The city, which currently has over 300 kilometres of bike lanes, is planning to add another 50km of lanes by 2015, when city planners hope 50% of the residents will commute by bicycle each day.
If you are a visitor to Copenhagen, be advised if your first biking experience in the city is during the rush hour. Local residents ride fast, as it's their daily commute, and they know the bike path network. (The bike lanes even have their own traffic lights)  It's advisable to do your first bike tour in the city during the non-peak traffic hours. You can also sign up for various bike tour groups in the city. 
Don't have a bike? Don't worry… the city offers over 100 bike stations where you borrow a bike with a security deposit, and you will get the money back when you return the bike.  You can also rent a bicycle from countless hotels and operators throughout the city.