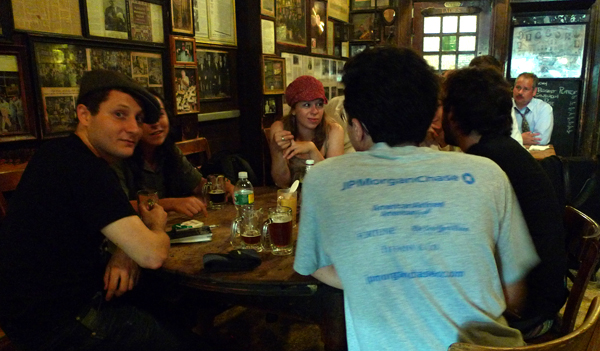 One of the activities – a pub crawl to some of Manhattans oldest and oddest bars.
The web site Couchsurfing.com has been around for a while but it is becoming more and more popular for each year. The main idea is for travelers to find couches to sleep on with locals when they visit different parts of the world. But there are also events, parties and meetings being organized, that locals and visitors alike, can go to to meet people from all over the world.
The New York group is one of the most active ones and they have a reputation for organizing fun activities.
The week that just passed was the week of Couch Crash and during those days hosts are encouraged to arrange several fun things to do each day. Couch surfers are also encouraged to visit New York during this week if they want to partake in all that is happening as well as meet New Yorkers and lots of other like minded travellers.
Some of the things that has been on the agenda this week was a dinner at Kat'z, maybe the most famous diner in New York – both for the gigantic sandwiches with huge amounts of meats on them and because of the fact that the well known "fake orgasm scene" from the movie "When Harry Met Sally" was set here. There has also been a karaoke night, salsa lessons, pub crawls, a Bollywood themed party and much more.
If Couch Surfing and Couch Crash seems like the thing for you, you can find out more details on the web site www.couchsurfing.com.