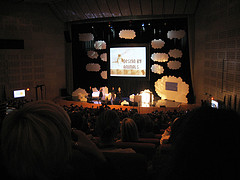 Wow,, what a Design Indaba 10! Possibly the most inspi.jpgring so far,, Thanks to Travelstart, Damian, Tara and myself spent an amazing inspi.jpgring 3 days of conferences by graphic designers, product designers, architects, futurists, artists trend spotters and cartoonists.
The standing ovations:
– Massimo and Lella Vignelli
" I like design to be semantically correct, syntactically consistent, and pragrmatically understandable.
I like it to be visually powerful, intellectually elegant, and above all timeless"
Massimo Vignelli.
I think that sums it all.. His work includes graphic and corporate identity programs, publication designs, packaging, architectural graphics, exhibition, interior, furniture, and consumer product designs for many leading American and European companies and institutions. By timeless, I mean that American Airlines hasn't gone through a single rebranding since their birth! As he said himself, you can't get more american than that logo!
Mr. Vignelli's work has been published and exhibited throughout the world and entered in the permanent collections of several museums.
Absolutely amazing energy and love for beautiful design!
http://www.vignelli.com
– Zapi.jpgro
Activist cartoonist.
I didn't know this but when he first started, he had to go into hiding because of one of his cartoon. He's been making very pertinent comment about the political state of South Africa, always sticking to his gun and conveying his messages with wit and guts.
– Jaime Hayon
Follows his heart,, after a research internship at Fabrica, Jaime went on to draw what was in his head. He learned the craft of porcelaine and turned his drawing into real life real size objects and exhibited these crazy landscapes made of soni pi.jpggs and weird cactuses. Some bathroom company spotted him and asked him to draw a sink. Which led him to bath tubs, lamp shades, tables and other products. We absolutely love him because he's been following his heart, doing stuff only for fun and to learn, not because he had to. So much energy and fun, yay Jaime!! (Tara's favourite).
http://www.hayonstudio.com
– Keith Helfet (from South Africa) went from building car body in plaster in his garage to designing the most amazing cars for Jaguar. Emotional design sells. Jaguar received several blank cheques for a car not even in production, all because of his desirable design… Design sells!
http://en.wikipedia.org/wiki/Keith_Helfet
Jaguar webite
– Allistair King from ad agency King James in Cape Town told designers to use their skills for themselves, not just for others. He also highlighted what his designers do in their spare time and pointed out that having several businesses / passions in the go help balancing oneself and keep motivated and inspi.jpgred. I'm off starting my own CC only for "work of love", thanks Alistair!
http://www.kingjames.co.za/
Even though their presentations might not have been as entertaining as the more demonstrative speakers, I really enjoyed my favourite product designers' talks and seeing them for real. I've been trying for a while to get other people to buy me products designed by Jasper Morrison for example.. and hearing his thoughts and approachs made his products even more desirable!
http://www.jaspermorrison.com/

– Tobias Frere-Jones from the legendary Hoefler & Frere-Jones foundry, designs typefaces. His amazing journey of legibility and meaning research made us look at legibility and meanings differently. He then explained how and why he designed a typeface used to display stock shares in a newspaper, increasing legibility and use of space. Absolute God!
Hoefler & Frere-Jones

Cameron Sinclair really blew my socks off too. I saw him in a TED talk podcast a few weeks ago so it was nice to sit in front of this guy for real 🙂
He's the founder of Architecture for Humanity, a charitable organization which promotes architecture and design solutions to humanitarian crises and provides design services to communities in need. He's working in 9 countries in projects ranging from school building, tsunami and hurricane reconstruction to developi.jpgng medical facilities in Sub-Saharan African. What really shocked me is that this guy, with the help of designers world-wide, is helpi.jpgng and rebuilding communities way faster than the UN and other similar organisations. He also achieves this for a lesser cost. Most importantly, he involves the communities he works with, which a lot of help projects don't seem to do.
"Design like you give a damn!"
http://www.architectureforhumanity.org/
Last but not least, Brian Eno. Unfortunately we couldn't assist to the entire talk due to my music video being premiered at the same time as his talk but I would love him to be my art mentor and having philosophical discussions with him about the meaning of it all!
http://www.enoweb.co.uk/

For photos and more, check out the Design Indaba website.
Thanks Stephan, we absolutely loved it!!