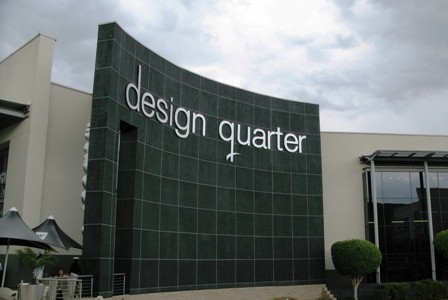 Design Quarter was one of Jo'burg's first shopping centres to combine interior design and consultancy services with home décor stores and restaurants in a single retail space.
It's since evolved into one of Jo'burg's trendiest shopping spots; it's status affirmed by CNN, who voted it a must-see for visitors to Jo'burg during the World Cup.
An open-air piazza surrounded by restaurants is the focal point of the Design Quarter shopping centre.
A favourite place of the coffee and cocktail set, there's masses of shaded outdoor seating, and a selection of crowd-pleasing, if formulaic, restaurants, including Mythos, KitchenBar, Primi Extreme, the Fish and Wine Co. +27 (0)11 465 6266, and a Woolworths Food Bar.
My pick of places to eat in Design Quarter goes to Crab Tree & Evelyn's Tea Room. With just 35 seats, climb the stairs and you're 6-years old again, enjoying a nursery tea party, complete with home-made lemonade, boiled egg and toast 'soldiers', and scones with preserves with clotted cream. If I could, I'd arrive wearing my slippers and flannel pyjamas, with teddy bear in tow, it's that delightfully nostalgic +27 11 465 8276.
No doubt, though, that teddy and I would be frog-marched out by the fashion police. On weekends, Design Quarter is packed with the beautiful folk of Jo'burg who come here to dress their cribs, preen, and be seen (or at least fake it until they make it), so dress the part.
Although most Design Quarter shops have price tags to match your boutique lifestyle aspirations, even the mass-store tenants like Woolworths, Mr Price, @Home, and Boardmans, offer merchandise and ranges you won't find anywhere else.
In the event that a shopping spree here has melted your credit card, perhaps a session at the Bikram Yoga Studio will purge the urge to feather your nest like a Forbes billionaire, and restore your financial karma to a level that's acceptable to your bank manager.
On second thoughts, you could always comfort eat your overdraft away at the Lindt Chocolate Studio.
If that's still beyond your budget, at least parking here is gratis while you soak up Johannesburg's abundant summer sunshine. You may even get away with asking for a glass of free tap water…