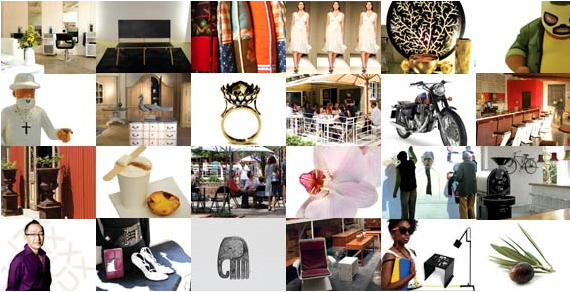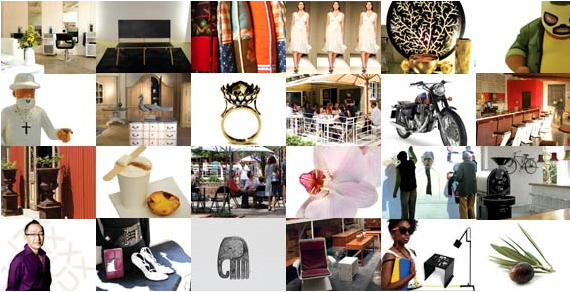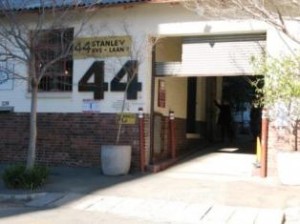 44 Stanley
is an eclectic shopping emporium sandwiched between the semi-industrial area northwest of Braamfontein, the historic suburb of Richmond, and the business district of Milpark. If not for the number 44's on the west frontage and the north entrance of the
44 Stanley avenue
precinct, you'd drive right by, and miss one of Jozi's more-interesting shopping experiences.
Behind 44 Stanley 's industrial looking façade is a Mad Hatter ensemble of industrial warehouses that have been converted into jewellery studios, quasi-Provencal barns, hole-in-the-wall shops, and art galleries that make for a refreshing change from the cut-copy-paste shopping malls that have proliferated Jo'burg's retail scene.
Comprising about 25 stores, the shopping quarter centres around two courtyards. West, is a shaded urban olive grove, occupied by the patrons of il Giardino degli Ulive Italian restaurant who come for leisurely long-table alfresco feasts under the orchard in summer, and brazier-side, in-kitchen  dining in winter.
East, the other outdoor area, is a cheery piazza packed with old-fashioned wrought iron chairs and tables, where the Salvation Café satisfies whole-food appetites, and the Boat, a quirky Portuguese take-away servery, specialises in fresh sandwiches, pasties-de-nata, and faturas to-go.
Whether by design or fortuitous coincidence, the stores located on the west side of the precinct appear to pay homage to all that's retro, classic and tradition-driven; while the studios and galleries on the east side celebrate all that's eco-conscious and neo-modern.
At 44 on Stanley, almost every store is worth a look-see, because nothing is run of the mill, or off-the-rack, from Nigella Lawson's Wonki-Ware ceramics to the authentic Zululand pottery. You'll find couture straight off the runway of African Fashion Week, and planet-friendly organic cotton and hemp clothing that could also serve as a low-carb, high-fibre alternative to brunch should Vovo Tello bakery have sold out of their sought after organic, stone-ground flour breads and French patisserie.
With a vibe that's part Greenwich Village, and part Notting Hill scruffy-chic, 44 Stanley in Milpark lures trendy families, arty-farty types, and iPad and Google-geeks, who bring their Smartphone's and Apple-Mac's out for a breath of fresh air and sunshine the way the rest us walk our dogs. Real pooches are welcome, by the way.
44 Stanley is a place to meet, eat, chill, browse, find a gift for someone who has everything, or dress yourself, and your nest, in the latest urban designer chic.

for the best flight deals to Joburg online!