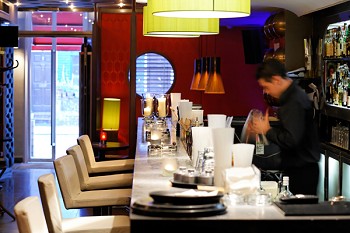 On the world cocktail scene, London has quickly shot up the ranks to become one of the great towns for tippling.  With bars like 69 Colebrook Row, Connaught Bar and Lonsdale, London's residents and visitors alike can drink in style.
Located in London's posh Notting Hill neighborhood since 2002, Lonsdale is a restaurant and bar serving up good food and craft cocktails in a three-story space.  Comprised of a dimly-lit retro restaurant, a stylish but comfortable bar and Genieve, a members-only bar adorned with space-age décor, Lonsdale's got it all.  But more than conceptual stylings, Lonsdale's cocktails are what keep most patrons coming back.
The bar/restaurant features an assortment of cocktails, from house-specialties to contemporary classics, and each comes equipped with a story of origin.  For a real throwback to the past, try Drake's Mojito, which, as the legend goes, was created in 1586 by Pirate Richard Drake and is a direct ancestor to today's popular cocktail.  Or fast forward a few centuries to 1891, and try William Schmidt's English Claret Punch (freshly diced cucumber with orange peel and homemade cucumber syrup, gently stirred over ice with gin, maraschino and soda).
If straight spirits are your thing, Lonsdale won't disappoint. The bar's impressive selection of bottles spans the globe, with liquors ranging from bourbons and malt whiskies to overproof rums and Cachaça, plus a wide array of aperitifs and bitters.